T-Mobile Chief Technology Officer Neville Ray most likely knew that there was no possibility of the carrier sporting high data usage numbers at Super Bowl 51 Sunday, and used the same game play that it did last year.
Ray tried to exploit his opponents' slow speed during the most watched sporting event in America with T-Mobile's download and upload speeds of 54 and 19 Mbps, but this year he ended with an embarrassing fourth down, losing his third place data showing last year in San Francisco to Sprint.
Data usage reports by the carriers identified Verizon with the lead at 11 TB, AT&T, 9.8 TB; and Sprint, 5 TB.
Ray didn't release T-Mobile's data consumption, but did say in a blog that his customers used twice as much data, and based upon the carrier's usage last year, the total would be 4.2 TB – putting Ray's team in fourth place.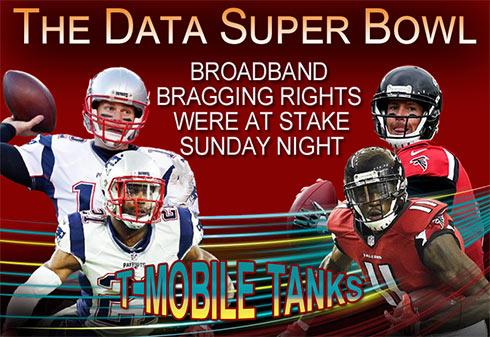 Total data usage during the game totaled 30 TB, with another unofficial 10.6 TB coming from NRG Stadium's Wi-Fi, topping last year's Super Bowl by 14 TB.
T-Mobile's speeds went down along with other carriers when "spike" events occurred, such as touchdowns and the end of Lady Gaga's halftime show.
The incredible comeback by the New England Patriots to claim a 34-28 overtime victory kept all networks busy throughout the night.
"We trounced Verizon and AT&T so hard – on both upload and download speeds – that it wasn't much of a competition.  AT&T and Verizon even lost to Sprint. That's like the pros losing to a high school team. Ouch," Ray wrote.
Ouch? Ouch?  The real black and blue goes to the pink carrier for its network's dismal usage during the game.
Last week, Wireless Estimator predicted that there could be up to 50 gazillion terabytes of data used during Super Bowl 51.
Overtime brought Fox another $20 millon
Host network Fox also won big in the Super Bowl, being able to air four additional ads during the championship's first overtime in 51 years, adding as much as $20 million onto what was already a $400 million-plus night.
Preliminary results suggest that as many as 15 million viewers may have left after the halftime show as Tom Brady staged the single greatest comeback in Super Bowl history.
Nielsen reported that 172 million people watched at least some portion of Super Bowl 51, making it the most-watched program ever on TV.
The average 30-second spot cost $5 million.