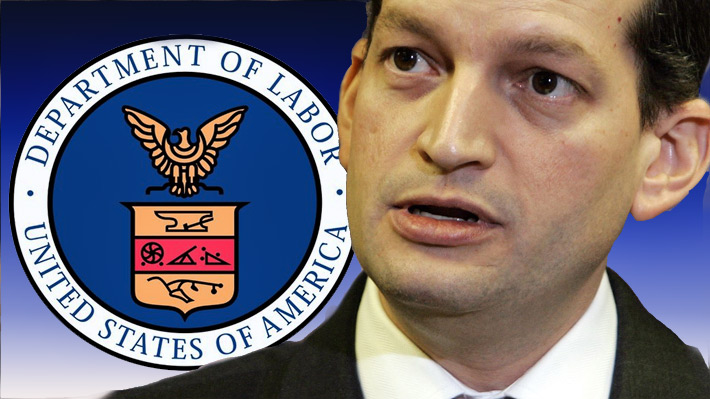 Alexander Acosta was sworn in Friday as Labor Secretary after a bipartisan vote of 60-38. Acosta, 48, is President Trump's Cabinet's first Latino member, but the President's second choice for Labor Secretary. His first selection was fast-food executive Andrew Puzder, who withdrew when it was clear that he lacked support in the Senate for confirmation.
In a statement, Senator Tim Scott said he hopes Acosta's focus will be on "promoting labor policies that are free of necessarily burdensome federal regulations."
The National Association of Tower Erectors congratulated Acosta on his confirmation as the nation's 27th Labor Secretary.
"NATE extends our congratulations to Alexander Acosta and his family on his confirmation to serve as the next Secretary of Labor," said Executive Director Todd Schlekeway. "NATE has a long-standing collaborative relationship with the U.S. Department of Labor and we are excited to roll up our sleeves and begin working with Mr. Acosta and his team on the myriad of initiatives and policy issues that impact the communications tower industry and worker safety."
Acosta was Assistant Attorney General in the U.S. Justice Department's Civil Rights Division under President George W. Bush, who later appointed him U.S. attorney for the Southern District of Florida.
Acosta previously served as Dean of the Florida International University College of Law in Miami.
The Senate must also confirm the Assistant Secretary for Occupational Safety and Health Administration, and the Deputy Secretary of Labor.
The DoL's leadership team currently consists of 37 executives and 38 vacancies. However, it is expected that President Trump will receive recommendations from Acosta for key Labor Department  agencies, including the Mine Safety and Health Administration, the Federal Contractor Compliance Programs and the Wage and Hour division.
In an internal memo to staffers, Acosta said, "We will meet these challenges and others with the focus of our full attention, and we will meet them in a way that embodies the best of our American ideals: with collegiality, with respect for one another, and with optimism. Supporting the ability of all Americans to find good and safe jobs is a priority for President Trump and for me. Together, we will provide that support and deliver real results for the American people."
"The president and I are absolutely confident that– with you as our new secretary of labor — we will continue to restore opportunity, prosperity and growth for working Americans now and for generations to come," Mike Pence told Acosta at his swearing in ceremony.