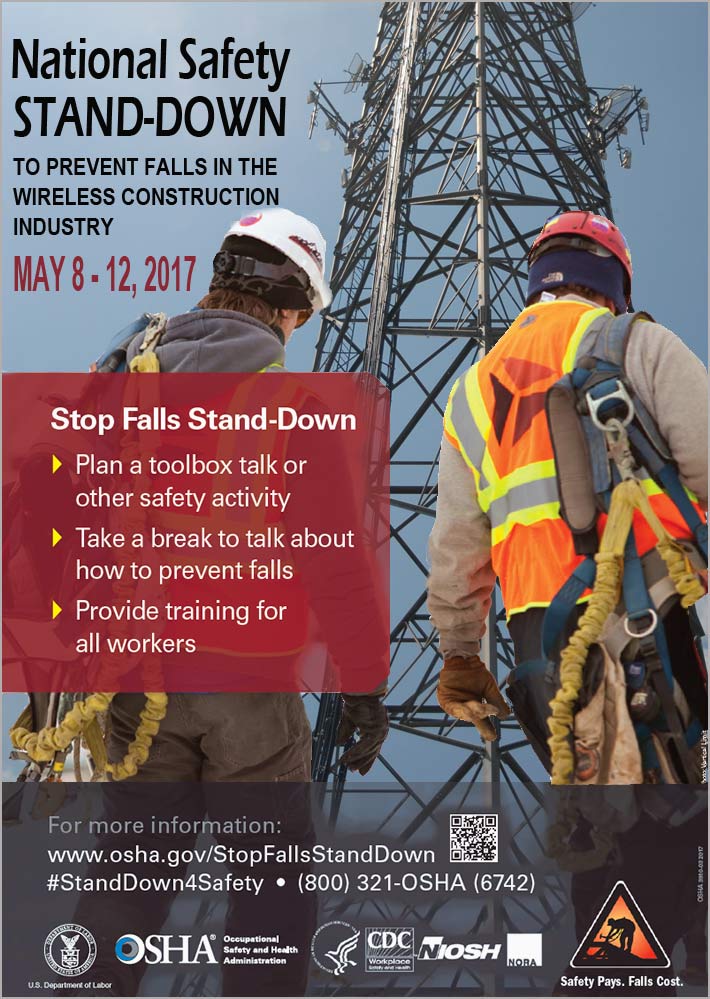 Next week's national safety stand-down, May 8 through May 12, to prevent falls in construction, is an ideal time for contractors and other aligned businesses to take time out to discuss the very real problem in wireless construction of civil workers and tower techs injuring themselves.
And even though the industry has not had any fatalities of a wireless worker falling from an elevated structure in 2017, OSHA Directorate of Construction Dean McKenzie stressed today to Wireless Estimator that this is the time to emphasize the need for 100% fall protection so that complacency doesn't cause the next death.
"Anyone who wants to prevent falls in the workplace can participate in the stand-down. In past years, participants included commercial construction companies of all sizes, residential construction contractors, sub- and independent contractors, highway construction companies, general industry employers, the U.S. Military, other government participants, unions, employer's trade associations, institutes, worker interest organizations, and safety equipment manufacturers," McKenzie said.
The National Association of Tower Erectors (NATE)  is also encouraging their member companies and all stakeholders in the wireless ecosystem to actively participate in the stand-down.
"The 2017 OSHA National Safety-Stand Down Week is coming at a critical time as the industry prepares for a spike in work due to an increase in both macro and micro deployment activities, the beginning of tower-related work associated with the Broadcast Repack transition and as the FirstNet Public Safety Broadband Network build-out commences. The stand-down provides every employer and employee with a unique opportunity to double-down on a culture of safety at their respective companies," said NATE Executive Director Todd Schlekeway.
Black & Veatch Telecom Business ESH&S Manager Benjamin Afton said all of his firm's regional telecommunications offices around the country will be taking part in in a variety of ways, including daily activities aimed at raising awareness of such things as heat illness prevention, jobsite safety plans for fall protection, rooftop safety, and emergency action plans.
"Additionally, safety topics will be presented both to our office staff as well as our field construction workers. Our top leadership will be out visiting regional offices and making stops to active jobsites to show our commitment to worker safety. Safety Week is a great time to push pause and really focus on what we are doing as a company to influence the safety culture of the telecom industry as a whole," said Afton.
Additional information regarding the national stand-down can be found here.
Let us acknowledge your event
If your company is going to have a stand-down, let Wireless Estimator's audience know that you're reinforcing the importance of fall protection and want other tower erection and service companies to join with you in your effort. Share your story with us by sending pictures of your activities and how your company participated in the national event. Reply to info@wirelessestimator.com