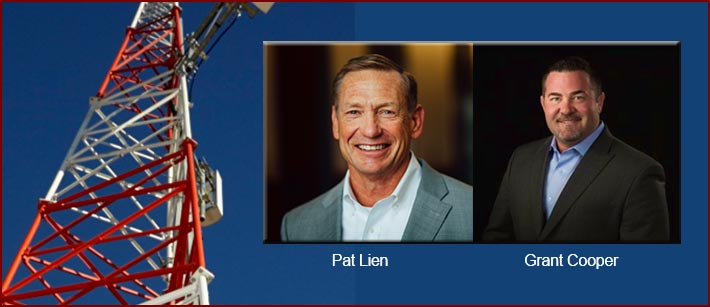 B+T Group Inc. announced this week that Patrick Lien has joined the company as vice president of sales and business development, and Grant Cooper will be the Tulsa Okla.-based company's National Account Director.
The company is continuing its push to grow nationally, providing services to major telecommunications carriers, tower owners and asset managers with a wide variety of engineering, construction and technical needs.
Lien is a results-driven telecommunications and technology executive with 20+ years of experience in the industry, most recently serving as director of strategic national accounts in the telecom division at Black & Veatch in Orlando, Fla.
"I'm excited to join B+T Group – the company's vision to provide turnkey services and create bold, innovative technology makes it stand out as one of the most strategic telecom engineering firms in the industry," Lien said.
Lien has also held executive positions at GSG, R.W. Beck, CAVU, and Arcadis, and he earned a master's degree in business administration from the University of West Florida and a bachelor's degree in science in Political Science from the U.S. Naval Academy. He is a retired U.S. Navy Commander, a former F-14 Radar Intercept Officer and TopGun Graduate.
Chad Tuttle, CEO and president of B+T Group said, "Pat's wealth of experience and knowledge of the telecom industry stands out, and we look forward to new relationships and opportunities to come. With Pat's leadership, we also look forward to continuing and improving our relationships with our longtime customers. This is a win-win for B+T Group."
Cooper joins B+T from General Dynamics where he served as Senior Business Development Manager. Prior to General Dynamics, Cooper, spent 11 years driving new business at SPX Corporation – Flash Technology Division.
"B+T is a growing company with some really exciting innovations in the works," Cooper said. "That's something I want to be a part of – changing the way telecom works."
Cooper will work out of B+T Group's Dallas location, serving B+T Group's western region and providing sales leadership for national accounts.
Lien said, "Grant knows the telecom industry inside and out. His expertise will be a strategic asset to our clients."
Cooper received his BS from Texas State University and is currently finishing up his MBA.
B+T Group was founded in 2000 as a home-based consulting company in Tulsa, Okla., and has grown to a full-service engineering, construction and technical services firm dedicated to building and maintaining the safest, most reliable wireless network infrastructure in the country.