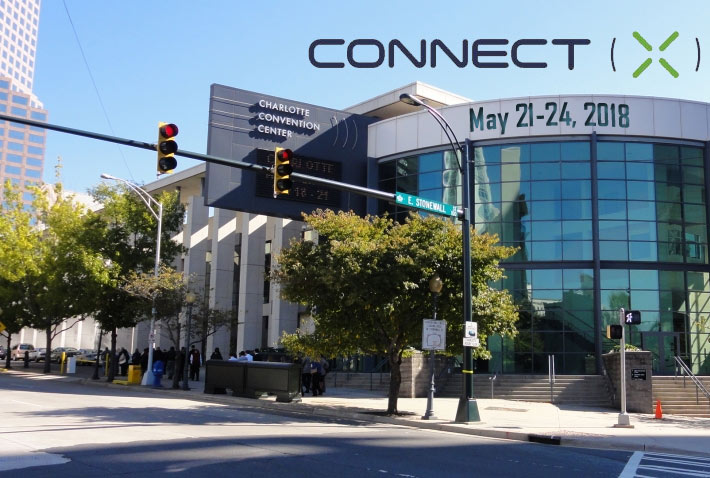 The Wireless Infrastructure Association (WIA) today announced the creation of a ground-breaking new conference and trade show dedicated to the rapidly evolving telecommunications ecosystem. Over three action-packed days, attendees will experience cutting-edge discussions, workshops and keynote speeches from leaders across multiple industries – from wireless infrastructure and automotive to smart cities and commercial real estate.
The Connectivity Expo —  known as Connect (X) — will bring together the buyers and sellers of connectivity solutions and showcase the latest innovative technologies and vital infrastructure driving the future of communications.
The inaugural Connect (X) will take place May 21-24, 2018, at the Charlotte Convention Center in Charlotte, N.C. Sponsorship packages and other sales and marketing opportunities are currently available exclusively through WIA.
The event is designed to serve all elements of the expanding and evolving connectivity ecosystem – from the macro structures that stand high above the ground and the miles and miles of fiber networks below the ground to the 5G technology driving the ongoing network densification in our cities and the technology embedded in our cars.
"We created Connect (X) to reflect a new world where wireless infrastructure connects everything – from the traditional macro towers that remain the center of the connectivity universe to the Internet of Everything and beyond," said Jonathan Adelstein, President and CEO of WIA. "Through keynote speeches, expert panels and other unique forums designed to facilitate conversations between the best minds in our industry, Connect (X) will cover more ground than any other event."
The creation of Connect (X) serves as the culmination of many years of WIA hosting the Wireless Infrastructure Show and the HetNet Expo each year. The growth and interest in both events set the stage for WIA to take another major step by launching the new venture.
"Our industry is ever-evolving," said Tim House, Executive Vice President of WIA. "The topics and issues that we've explored at our highly-successful shows lead to their combination. We will harness the energy created by these communities into a single conference that includes all of the great programming and networking from the two events and expand into a broader, even more inclusive offering for every company and organization, every city and town, every entrepreneur and investor. Ultimately, our industry is about connectivity and that is the essence of Connect (X)."
Programming at Connect (X) will include Smart Cities and Connected Communities, Macro Cell: Towers and Edge Infrastructure, Private LTE Networks, Connected Real Estate, V2i (or Vehicle to Infrastructure), Critical LTE Communications, Innovations in Infrastructure, and Workforce Diversity. For more details on each of these programming tracks, go to www.connectityexpo.com/conference.
The event's call for speakers is open through January 12, 2018. Persons interested in speaking at the inaugural Connect (X) event are encouraged to submit an abstract online at: www.connectivityexpo.com/call-for-speakers.