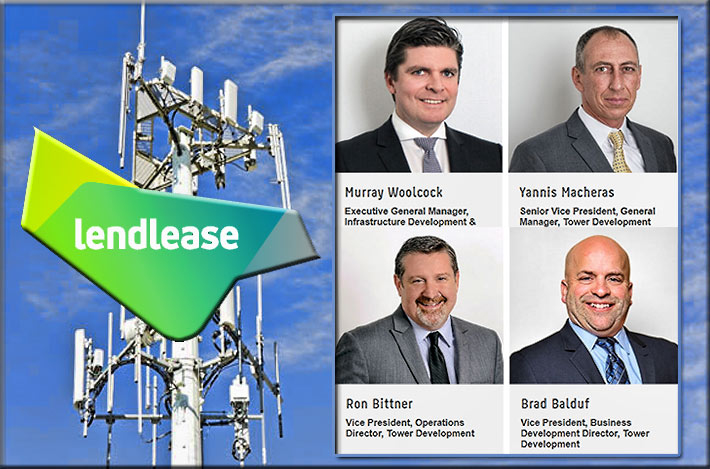 When Lendlease recently entered the U.S. tower market in May with its purchase of Parallel Infrastructure's 450 towers, it is likely that major tower operators viewed the acquisition as a missed opportunity and another competitive thorn in their rosy future, and possibly shrugged off Lendlease Americas CEO Denis Hickey's statement that he would expand those holdings.
True to his promise, Hickey yesterday announced that Lendlease Group has established a joint venture with SoftBank to develop and own telecom infrastructure assets in the U.S., where the Japanese group owns mobile operator Sprint.
The venture, to be known as Lendlease Towers, will focus on partnering with major carriers to roll out further phases of their infrastructure expansion plans to meet growing demand for data, with at least 8,000 cellular sites which will include a portfolio of rooftop and tower assets through both a development and an acquisition-based strategy.
Lendlease and Softbank have each committed $200 million towards the new company with the intention of targeting $5 billion of telecom assets as the venture grows, according to Hickey.
Lendlease has been appointed the joint venture manager, asset manager and development manager.
"Consistent with our strategy of focusing on growing demand for infrastructure, we've identified the telco infrastructure sector as an opportunity to deploy our integrated business model," said Hickey.
"Lendlease has a long-standing relationship with SoftBank in Japan and we are excited to be partnering with them on this new initiative in the United States."
It's been generally accepted that although some smaller tower companies could witness marked growth, acquisitions would keep Crown Castle, American Tower and SBA Communications as the country's power brokers.
Lendlease Towers could easily change that profile.
See: Top 100 Tower Companies in the U.S.