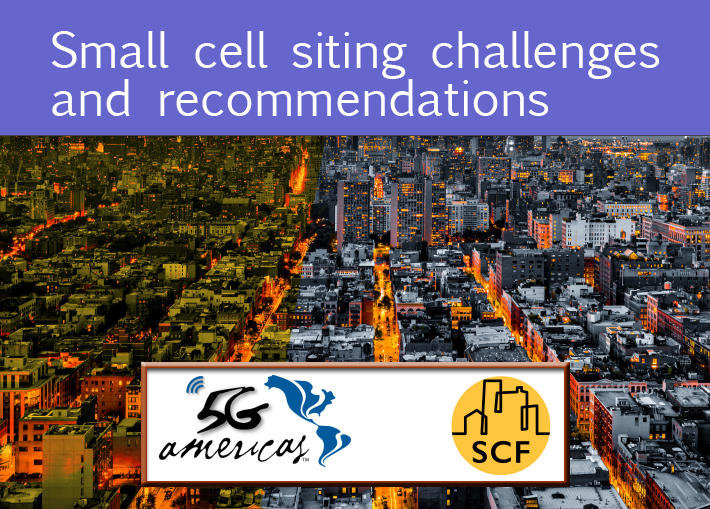 5G Americas and Small Cell Forum believe that if the challenges of siting for outdoor cells are not addressed in a timely manner, many of the benefits which governments, regulators and cities hope to derive from 5G – such as smart city platforms and the Industrial IoT – will be severely compromised. The two associations emphasize that altering regulatory policies at the national, state and city level is imperative to reduce the time and cost of deploying small cells at scale.
Small Cell Forum (SCF) and 5G Americas today announced collaborative publication of Small Cell Siting Challenges and Recommendations, a detailed whitepaper to support operators and government decision-makers in the efficient deployment of small cells. The report provides a clear set of guidelines, designed to help cities, regulators and other stakeholders, to adopt a common, streamlined approach that will maximize the benefits of densification for their citizens.
For mobile network operators, filling coverage gaps was the initial priority in deployment of small cells, but now operators are deploying a layer of targeted capacity small cells to steadily deliver best-in-class performance and quality of service even in areas of the heaviest usage. Densification involves large numbers of cells, even for LTE, and the numbers will increase in 5G because of its increased capacity requirements, higher spectrum bands and support for new services such as smart city applications.
One of the biggest changes that operators will make as they move from 4G to 5G will be scale. Far more cells will be required for 5G, with a greater diversity of equipment form factors and site types. By 2020, the average densification project will involve 100-350 cells per square kilometer and these will be mounted on many types of infrastructure and integrated into street furniture and even vehicles. The white paper presents results from a Rethink Technology Research survey of operators that shows barriers to densification exist with site, backhaul and approvals issues possibly causing operators to postpone the start of a densification project by an average of two years and two months.
This white paper explains in detail:
Why densification is becoming urgent
What benefits densification intends to deliver
What barriers remain and the work done so far to address them
Chris Pearson, President of 5G Americas said, "Local municipalities, citizens and operators should be partners, not adversaries, in delivering the future of 5G connectivity in towns and cities across the U.S. These partnerships can cooperatively streamline processes to deliver the best quality, coverage and security through densification of networks." Pearson added, "Small Cells should be deployed in weeks, not months."
SCF and 5G Americas have created the report to explicitly support and simplify the planning and regulatory issues associated with the dense Heterogeneous Network (HetNet) deployments that will be typical in our 5G mobile future, and in which small cells will be a significant component. Experts from the forums and their member organizations have been cooperating globally to author the document, and it is the goal of both organizations to help eliminate potential roadblocks and mitigate challenges that may slow the process of network densification.
The paper outlines best practices and aesthetic guidelines for classes of equipment in small form factors such as 'street furniture' that will contribute to a future mobile network design to enable:
Support for enhanced quality of service for customer satisfaction
Reduced cost of capacity particularly with the return to unlimited data plans
Enablement of brand new services for customers and enterprise
Use of shared spectrum with LTE-Licensed Assisted Access (LAA)
Rising interest in edge computing, and potential to support new consumer and enterprise services by combining computing and storage resources with connectivity at the edge of the network
"Small cells, edge computing and shared spectrum can be combined to create dense localized networks targeted at a city, enterprise or particular vertical market bringing many economic, social, public safety and entertainment benefits to customers and local, state and national governments," said David Orloff, Chairman of Small Cell Forum.
The paper Small Cell Siting Challenges and Recommendations is available for free download on the Small Cell Forum and 5G Americas websites. This is the first joint whitepaper written in collaboration by the two leading industry associations in 2018. Previously published joint reports by the association include: Small Cell Siting Challenges, February 2017, an excellent prelude to this latest report, Small Cell Siting: Regulatory and Deployment Considerations, December 2016 and Multi-operator and Neutral Host Small Cells, Drivers, architectures, planning and regulation, December 2016.