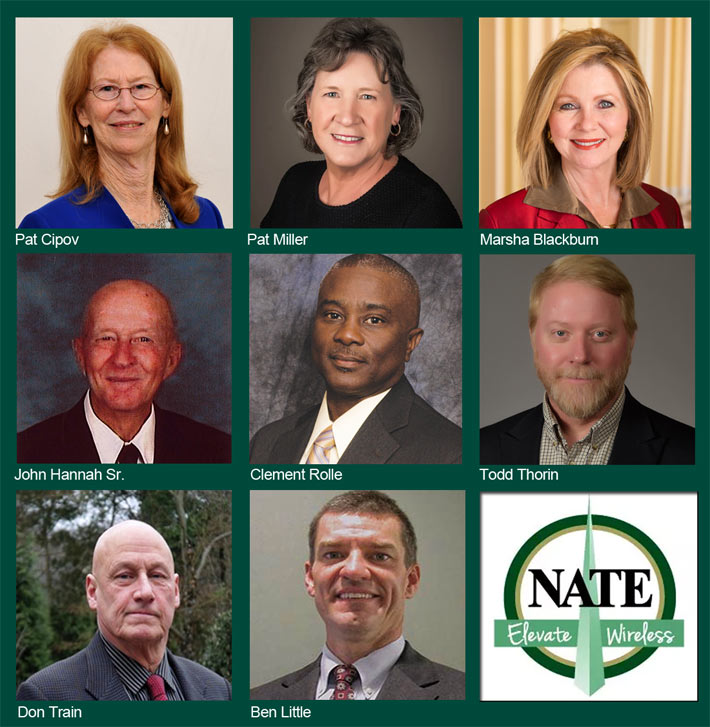 The National Association of Tower Erectors (NATE) today honored Pat Cipov, President of Cipov Enterprises, Inc. in Sumter, S.C.; Pat Miller, Director of EasTex Tower, LLC in Colorado Springs, Colo.; and Congressman Marsha Blackburn, U.S. Representative for the 7th District of Tennessee during the Awards Luncheon sponsored by SBA Communications at NATE UNITE 2018 in Nashville, Tenn.Cipov was honored as the recipient of the Bill Carlson Lifetime Service Award. This prestigious award recognizes an individual who has made a significant and long-term contribution to the success of the NATE mission and has served the Association continually for a minimum of 15 years.
NATE Chairman Jim Tracy and honoree Pat Cipov
Cipov has been in the tower industry for nearly 40 years. In 1995, her company, Cipov Enterprises, Inc. became one of sixty founding member companies of NATE. Cipov was elected to the NATE Board of Directors in 2000 during which time she was also appointed as the Board oversight for the OSHA Relations Committee. In 2006, she was elected to the Executive Committee as Vice Chairperson and served in that capacity until 2013.
In 2013, Cipov became the first woman to serve as Chair of the Association. In her role as NATE Chairwoman, she was an influential advocate for streamlining the deployment of broadband and wireless infrastructure technologies and promoting technological innovations in fall protection equipment in order to enhance workplace safety in the industry. Cipov served as NATE Chairwoman until 2015. Currently, she is serving as the South Carolina State Liaison for the NATE Wireless Industry Network (WIN).
"Pat is an industry trailblazer who has broken many glass ceilings during her career," said Executive Director Todd Schlekeway. "Pat is worthy of this achievement as she has tirelessly contributed her time and talents for 23 years to enable NATE to grow and evolve into the organization it is today," added Schlekeway.
Pat Miller was honored as the recipient of the Distinguished Service Award. This prestigious award recognizes a past or present standing committee member who has demonstrated direct and individual contributions to the mission of NATE and whose performance has proven so exceptional that it profoundly affects the success of the Association.
Miller has served on the NATE Member Services Committee since 2007 and as the NATE Member Services Committee Chairwoman from 2012 to 2017. She also previously served as the Regional Ambassador for the Rocky Mountain Region for the NATE Wireless Industry Network (WIN).
Congressman Marsha Blackburn (R-TN) was honored as the inaugural recipient of the NATE Legislative Champion Award. Congressman Blackburn has earned a special reputation as a bi-partisan leader and policy expert on telecommunications issues and intellectual property rights during her tenure. Blackburn currently holds a seat on the influential House Energy and Commerce Committee and has played a pivotal leadership role for the wireless infrastructure industry as Chairman of the House Subcommittee on Communications and Technology.
During the Awards Luncheon, NATE also honored John Hanna Sr., Founder of Tower & Communication Services, Inc. in Florence, S.C., Clement Rolle, Senior Manager at Bahamas Telecomm Co. Ltd. in Nassau, Bahamas and Todd Thorin, Director of Safety and Training at Sioux Falls Tower and Communications in Sioux Falls, S.D. with the prestigious Chairman's Coin award. The Chairman's Coin is an award recognizing individuals who have provided excellent dedication and service to the mission of NATE and to encourage continued involvement.
Departing members of the NATE Board of Directors Don Train of Haddon Heights, N.J. and Ben Little of Golden, Colo., were also recognized for their years of service to the Association at the luncheon.
"I thank all of today's recipients on behalf of all the people of NATE! I can assure you they represent the very best our industry has to offer" stated NATE Chairman Jim Tracy, CEO of Legacy Telecommunications, Inc. "These pioneering leaders have cleared the way for a bright and safe future for generations of workers. Their loyalty to the wireless workforce and the businesses that employ them have created an enduring legacy," Tracy added.
The Bill Carlson Lifetime Service, Distinguished Service Legislative Champion and Chairman's Coin awards were made possible due to the contributions made by the NATE Member Services Committee and Legislative and Regulatory Committee. The awards are an annual fixture at the NATE UNITE event. For additional information on NATE, please visit www.natehome.com.