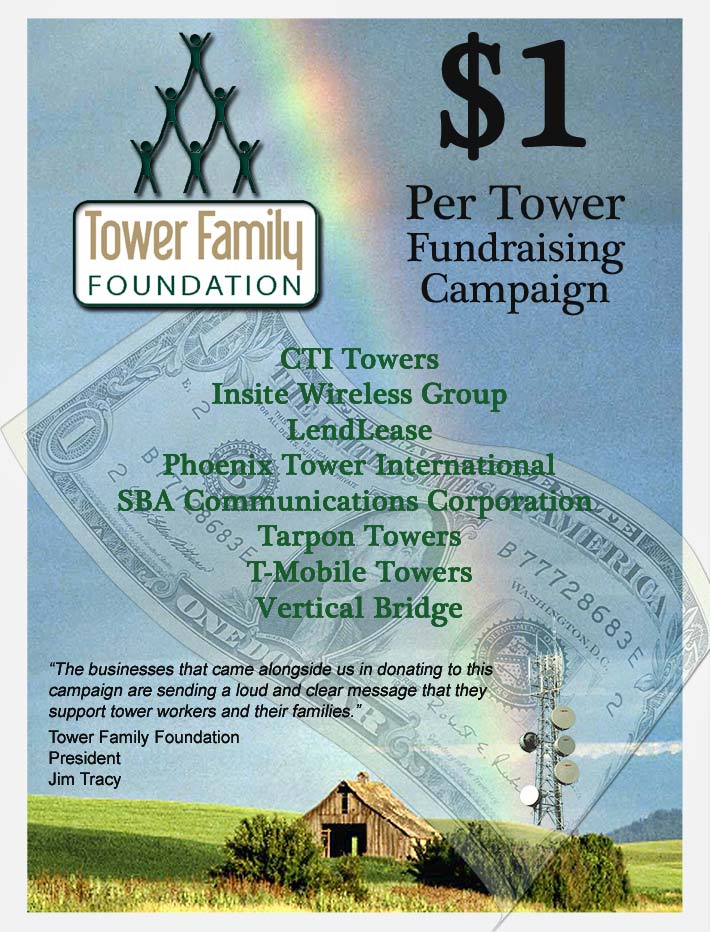 The Tower Family Foundation today recognized the tower owner/vertical solutions provider companies who are the inaugural donors to the organization's "$1 Per Tower" fundraising campaign. The "$1 Per Tower" effort involves firms who own and manage vertical communications infrastructure sites and commit to donating $1 for every tower the company owns directly to the Tower Family Foundation. The foundation made the announcement at this week's NATE UNITE 2018 awards luncheon in Nashville, Tenn.
The following companies were recognized by the Tower Family Foundation during the launch announcement for their generous contributions as inaugural donors to the annual campaign:
CTI Towers, Insite Wireless Group, LendLease, Phoenix Tower International, SBA Communications Corporation, Tarpon Towers, T-Mobile Towers, and Vertical Bridge.
"On behalf of the Tower Industry's families, I would like to sincerely thank the companies who have stepped forward as inaugural donors to this enduring campaign," said President Jim Tracy from Burley, Washington. "The businesses that came alongside us in donating to this campaign are sending a loud and clear message that they support tower workers and their families. These amazing tower technicians work to make connectivity as they build and maintain our countries remarkable wireless towers.  The Foundation needs donor commitments from the rest of our tower asset owning firms and I encourage them to join this worthy cause," added Tracy.
All contributions to the non-profit Tower Family Foundation are granted directly to eligible tower workers and/or their families to help assist them in paying for their immediate needs and related costs that occur in the aftermath of a post-accident or fatality situation. The Foundation has donated $342,500 in financial assistance and scholarships to eligible families since the organization's launch in September 2014.
The Tower Family Foundation possesses a strong financial management and stewardship track record. In the fall of 2017, an independent CPA firm calculated that the foundation's administrative expenses for the year ending December 31, 2016 as a percentage of total revenue was 3.36%. This independent calculation places the Foundation among an exclusive group of non-profit organizations in the United States that can boast of ultra-low administrative expenses and donating over 96 cents of every dollar to eligible benefactors.
Tower owner/vertical real-estate firms interested in joining the "$1 Per Tower" capital campaign are encouraged to visit the Tower Family Foundation's online donor page HERE.
Industry stakeholders are encouraged to visit the Tower Family Foundation's website at www.towerfamilyfoundation.org to learn more about the organization.