The Tower Family Foundation was the recipient today of a $13,000 donation raised by the employees of CTI Towers. October was designated as "Charity Month" at CTI, where employees were able to donate personal funds to the Cary, N.C. company's designated charity for 2018.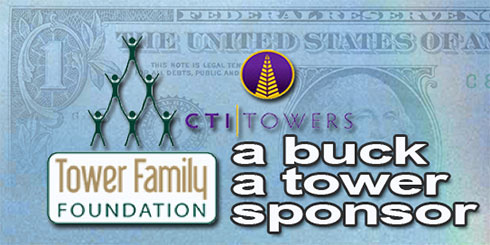 "We are always amazed at the kindness of our employees to assist those in need. They are all aware of the dangers faced by tower workers each and every day, and when misfortune strikes, the CTI team always wants to help," stated Loren Stearns, VP of Operations for CTI Towers.
A double tip of the hardhat to tower workers
CTI Towers was an inaugural donor to The Tower Family Foundation's $1 per Tower campaign, and supports the efforts of the Foundation. "The tower workers are the backbone of the wireless industry, and never get enough credit," Stearns continued. "However, when accidents occur, they usually occur at high altitudes which increases the severity of injury and complicates the rescue efforts."
The Tower Family Foundation was established to provide financial assistance to family members of a severely injured, permanently disabled, or deceased tower worker injured or killed in an accident stemming from working at heights on communication structures or other on the job related activities that tower workers are involved in on a daily basis. Since the organization's inception in 2014, the Foundation has donated $508,500 in financial assistance and scholarships to industry workers and their families.
97 cents of every dollars goes to eligible benefactors
"On behalf of the Tower Family Foundation, I would like to thank the employees of CTI Towers for their outpouring of support for tower technicians and their families," stated Foundation President Jim Tracy from Legacy Telecommunications, LLC in Burley, Wash.
"The Tower Family Foundation continues to be steadfastly devoted to fulfilling our core mission by providing both immediate financial assistance and scholarship funds to eligible industry workers and their families during times of need. Additionally, the Foundation is committed to be great stewards of this contribution as over 97 cents of every dollar donated to the organization goes directly to eligible benefactors," added Tracy.