FCC Commissioner Brendan Carr today conducted a site visit to a communications tower located in Noblesville, Ind. The tour was facilitated by representatives from NATE, Crown Castle and Heartland Solutions Corporation.
During his time spent on site, Carr visited with technicians and staff from NATE member companies Heartland Solutions and Crown Castle to discuss the work that is conducted on a daily basis building, maintaining and upgrading communications tower sites and related wireless infrastructure. Carr was also provided with a front row view on the equipment and PPE gear that tower technicians utilize to carry out their jobs in a safe and efficient manner.
Additionally, Carr learned about the benefits associated with the NATE STAR Initiative program from participating company Heartland Solutions Corporation.
Since program's inception, the STAR Initiative site safety audits and program documentation requirements have served to allow participants to proactively identify and correct hundreds of job site hazards and deficiencies. These results have allowed NATE to extrapolate valuable benchmarks and tangible data from the program, while demonstrating compelling evidence that STAR member companies are leading the charge in terms of making the industry safer.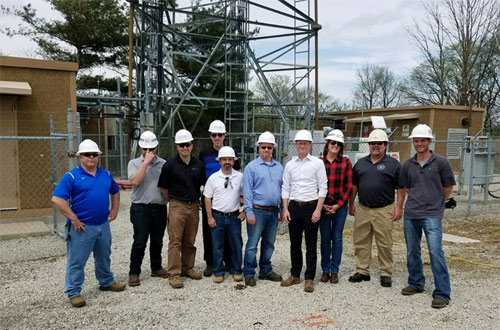 "It was an honor to have Commissioner Carr join us today at the Noblesville tower site to witness work being conducted safely and acknowledge the vital work that America's tower technicians, contractors and vertical realtors are playing to enable wireless connectivity," said Mark Fisher, owner and President of Heartland Solutions.
"We appreciate the leadership role Commissioner Carr is playing at the FCC to streamline wireless infrastructure deployments, promote the expansion of rural broadband and support workforce development initiatives," said Fisher.
In visiting Noblesville, a city of over 60,000 residents, and the first community in Indiana to officially sign on to FirstNet, Carr became aware of the City's excellent broadband service.
It provided a stark comparison to the broadband services offered in Beatty, Nev., a community of 1,010 resident that Carr visited last month in a county that has approximately two residents per square mile.
Whereas Noblesville is a growing community just 25 miles from the Indianapolis Speedway where over 300,000 fans will be streaming video from their phones on May 27 during the Indy 500, up until recently Beatty struggled at the end of the information highway.
Carr noted that the town had one medical clinic that was ready to close, requiring residents to travel 70 miles to the nearest hospital. However, a newly-installed broadband connection allowed the clinic to remain open with an online video connection to a doctor in a larger town.
Carr said that Beatty's high school just got high speed internet with a fiber installation, but students still suffer because they don't  have any internet access in their homes.