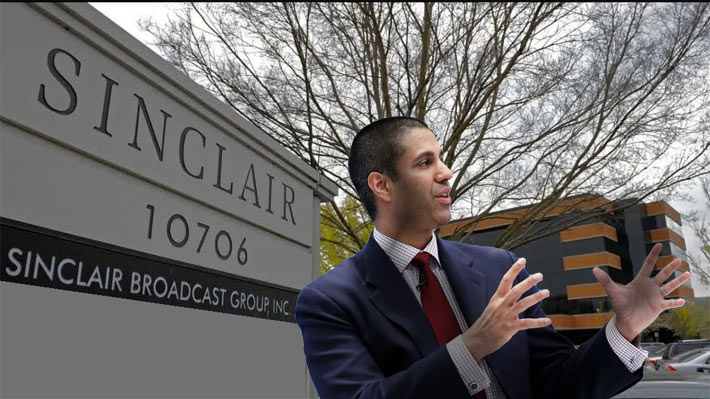 Two members of the US House of Representatives have sent a formal letter to the Federal Communications Commission Inspector General calling for an investigation of Chairman Ajit Pai, questioning whether Pai and others at the FCC have used personal messaging channels and private emails to communicate with Sinclair Broadcasting Group, a violation of the Federal Records Act and the Freedom of Information Act.
According to The New York Times, the second part of the investigation centers around whether or not Pai's actions have shown a pattern of preferential treatment towards Sinclair as stated in the letter sent by Energy and Commerce Ranking Member Frank Pallone, Jr. (D-NJ) and Oversight and Government Reform Ranking Member Elijah E. Cummings (D-MD).
The investigation, which the newspaper said has begun, would focus on the interactions of Pai and officials at Sinclair. The Congressmen believe Pai hasn't sufficiently answered questions related to these meetings and are hoping a federal investigation can clear things up.
According to the NYT in an August investigation, Pai and his staff members had met and corresponded with Sinclair executives several times. One meeting with its chairman took placed days before Pai, who was appointed by President Trump, took over as FCC Chairman.
Sinclair Broadcast Group is the second largest television station operator in the US and largest by total coverage. Their 173 different stations currently reach about 40% of American households and they are looking to grow by purchasing Tribune Media.
TV station ownership limits which required stations to maintain studios on the communities they serve were recently rolled back by the FCC.
In a response to the request for investigation, Chairman Pai's office stated: "Unfortunately, this request appears to be part of many Democrats' attempt to target one particular company because of its perceived political views, an effort that dates all the way back to 2004 when Ranking Member Pallone, Ranking Member Cummings, and other Democrats demanded that the FCC investigate Sinclair based solely on the content of a documentary they didn't like and that hadn't even aired. Any claim that Chairman Pai is modifying the rules now to benefit one particular company is completely baseless. For many years, Chairman Pai has called on the FCC to update its media ownership regulations—one of which dates back to 1975. The Chairman is sticking to his long-held views, and given the strong case for modernizing these rules, it's not surprising that those who disagree with him would prefer to do whatever they can to distract from the merits of his proposals."