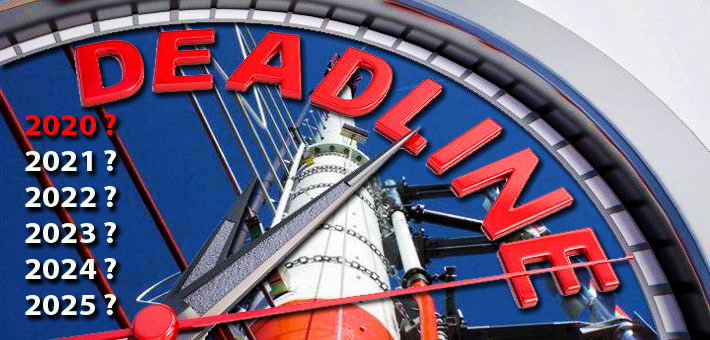 After assessing the progress of the first 12 months of the broadband repack, and the immense pressure put upon the small cadre of contractors that specialize in tall tower broadcast work, the NAB is again championing the need for the FCC to address what the trade group and tower companies believe is an "unrealistic schedule" and the organization is urging interested parties to file their concerns with the FCC.
Tower crew safety is also a primary concern of stakeholders based upon crew shortages and an ambitious and possibly unattainable deadline.
In an April 30 FCC filing by Stainless, a turnkey broadcast tower manufacturer, Business Development Manager Don Doty detailed that it is reasonable to predict that the repack will not be completed for an additional three to five years after the mandated completion date of 2020.
Following considerable industry research, Doty said reliable information indicates that less than 40 high power antennas are on their repack frequency or ready to broadcast, representing less than 5 percent of the stations properly converted after completion of one third of the repack construction period.
The repack requires 957 TV stations to change channels to clear the new wireless airwaves for use.
During last month's NAB show, many engineers said they were concerned about the lack of tower crews that were available and a Sept. 27, 2017 gin pole failure on a Miami broadcast tower that took the lives of three tall tower techs.
On April 19, a week following the show, the owner of an erection and maintenance company died when the tower he was repack retrofitting to allow the broadcaster to move from channel 23 to 16 collapsed and killed him.
A number of safety professionals state that to their knowledge there are no indications that pressures to complete the projects resulted in the multiple deaths, but were caused by other influences. The Miami deaths have been alleged to have occurred  due to an outside engineer's defective gin pole rigging plan.
Three broadcast contractors informed Wireless Estimator Friday that they are fully booked for work for the next year and frequently have to decline additional requests for their services.
"It would be too difficult for me to separate my key men to create another crew. Plus, it would be too hard for me to recoup the expensive equipment costs for a two-year project," said one of the contractors.
All three companies, said, based upon their knowledge of the niche broadcast contracting industry, that the July 2020 deadline will be impossible to achieve.
In Doty's correspondence to FCC Secretary Marlene Dortch, he said, "Broadcasters should be specifying in their contracts that tower erectors must know, understand, and operate in accordance with, applicable established standards (ASSE/ANSI A10.48 and TIA 322) that describe exactly what is required from tower erectors working on rigging of Class IV complexity—the type of rigging which comprises a majority of the repack work."
Doty questioned whether it makes sense for a tower contractor to 'ramp-up' for a short-term deployment strategy with limited resources and carry the burden of added financial risk.
"Many contractors ramped-up during the transition to DTV and were met with disastrous results, both practical and financial. 'Not this time' is an often-spoken sentiment in our industry, if made quietly or under the breath of the speaker. In addition, timing for crew development across most field service entities was held until work was realized with valid work contracts. Most entities could not afford the burden of increased staff and equipment ahead of actual bookings. We are more than a third of the way into the construction period and qualified firms are still in the process of ramping or have just determined that their current make-up is sufficient for the quantity of work they wish to win," said Doty.
The FCC concluded in January of 2017 that they expected that there would be 51 crews available during the first year of the repack timeline. It was the same count that T-Mobile reported that was hotly contested by the NAB.
The NAB said T-Mobile overestimated the number of qualified tower crews that would be available to mount or move antennas. "One reason for T-Mobile's inflated number is that it counts a number of crews that do not even currently perform broadcast work," their statement said.
T-Mobile is anxious to access the $8 billion worth of spectrum it acquired in the auction and has already begun turning up its 600 MHz coverage in hundreds of small cities and communities.
Doty is asking the FCC to consider extending the repack payments beyond 2020, to allow for the deployment of broadcast stations' final full power repack solution.
He believes broadcasters can meet their deadlines by postponing installation of permanent antennas and instead installing temporary side-mounted antennas.
Erectors would then be able to go back and install their permanent antenna once the deadline has passed in a safer more orderly fashion, Doty said.
"One concern would be that broadcasters use this extension to manage their delay instead of managing their repack transition. But strict adherence to the existing timeline runs a substantial and, we think, untenable risk of giving short shrift to appropriate workforce development and the necessary and concomitant focus on safety. History does not have to repeat itself, but lessons can be learned to safely manage the resources that are available today," said Doty.
In a statement to Wireless Estimator, National Association of Tower Erectors Executive Director Todd Schlekeway said, "As an organization, NATE does not have a position on the broadcast repack timeline. NATE's priorities and faculties are currently intently focused on  collaborating with our friends and industry stakeholders from both the broadcast and wireless communities to provide them with access to the standards, best practices, education resources and training in order to help ensure a safe and efficient repacking transition on the nation's communication towers."
"NATE's qualified contractor companies and equipment supplier members involved are performing essential tower work pursuant to the repack by deploying new antennas and wireless equipment on broadcast and cellular communications structures located across the country. This important infrastructure work is helping pave the way to enable emerging technologies and networks that are capable of meeting the country's connectivity and data needs moving forward," Schlekeway said.
Last September, NATE Chairman Jim Tracy informed members of the House Subcommittee on Communications and Technology that NATE believes that the marketplace will ultimately dictate the time period it will take to achieve the repack transition.
"NATE's priorities and focus during this transition will be to provide the broadcast and wireless industry workforce with the safety, standards and best practices resources needed as well as tools for education and encouragement to train to conduct their jobs in a safe and efficient manner," Tracy said.
In 2015, NAB unsuccessfully urged the FCC to reconsider its prior determination that all broadcasters designated for repacking must relocate within 39 months or be forced off the air. They said it was
"The Commission's one-size-fits-all deadline is manifestly unreasonable; clearly, the deadline for repacking 200 stations should not be the same as the deadline for repacking 1,200 stations," the NAB said in a filing.
On Oct. 16, 2017, 56 members of Congress implored FCC Chairman Ajit Pai to monitor that the 600 MHz spectrum is cleared no later than July 3, 2020. This time the NAB agreed with the policymakers and said it should be completed as "quickly as possible".
In an April email, NAB Associate General Counsel Patrick McFadden said that concerned parties should let the FCC know that the repacking schedule is unrealistic and "The Commission should adjust the schedule as needed to ensure that work can be safely completed without causing harm to stations, viewers, or needlessly endangering crews."