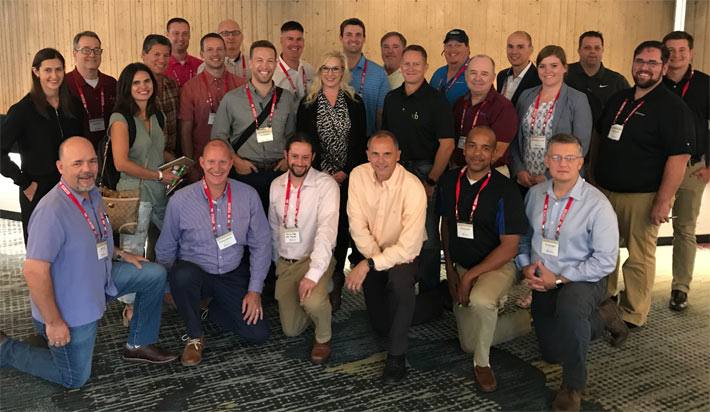 The National Association of Tower Erectors (NATE) recently hosted a successful inaugural Unmanned Aerial Systems (UAS) Summit in the Motor City of Detroit, Michigan.The high-level, 2-day strategic planning event was attended by participants representing the most prominent companies in the wireless and drone industries.During the NATE UAS Summit, attendees received an update from the Federal Aviation Administration's (FAA) UAS Integration Office.

Stakeholders also listened to presentations at the event highlighting the evolving nature of drone utilization from a wireless carrier, vertical realtor, contractor and tower technician perspective.

NATE hosted the UAS Summit in order to help scale UAS operations in the industry and take advantage of the many benefits associated with this technology.

At the event, the following working groups were established in order to foster collaboration between participants and continue building on the momentum that was established: Wireless Carriers and Vertical Realtors Working Group, Standards and Resource Development Working Group, and FAA Advocacy Working Group.

NATE also plans to host a UAS Operations "Show and Tell" field day at a communications tower site near the Washington, D.C. beltway in early October with invited stakeholders from federal government agencies, Capitol Hill and the industry.

"I would like to thank all of the participants and companies who were represented at our inaugural UAS Summit," stated NATE UAS Committee Chairman Jimmy Miller from MillerCo, Inc. "Even though the Motor City was the birthplace of the automotive industry, due to NATE's leadership at the Summit, it quickly became the site of innovation for the commercial utilization of drones in the wireless industry," added Miller.

"The communications tower industry is tailor made for the commercial utilization of drones and it was great to see NATE assemble such a talented group of participants who will be instrumental in developing industry-specific standards and a graduated level of training requirements governing UAS operations," said NATE UAS Committee Vice Chairman Bryan McKernan from Consortiq.

McKernan was officially appointed as Vice Chairman of the NATE UAS Committee at the conclusion of the Summit.

The following is a listing of the NATE UAS Summit participants:
American Tower Corporation
American Tower Corporation
B+T Group
B+T Group
Consortiq
Crown Castle
D&A Construction Management, Inc.
D&A Construction Management, Inc.
DARTdrones
DARTdrones
Drone Airspace Management
Drone Airspace Management
Drone Airspace Management
Eagle Drones, LLC
Ehresmann Engineering, Inc
Focal Revolution
Focal Revolution
MillerCo, Inc.
NATE
NATE
NATE
Needmore Towers Inc.
NUAIR Alliance
Precision Hawk
Red Mountain Scientific
SBA Communications Corporation
SBA Communications Corporation
Skyward (A Verizon Company)
Skyward (A Verizon Company)
Sprint Corporation
Stampede Global
Talon Aerolytics, Inc.
Tamarack Aerial Services
Tamarack Aerial Services
T-Mobile
Tower & Turbine Technologies LLC
Tower Engineering Professionals, Inc.
U.S. Cellular
United Tower Alliance, LLC
Unmanned Vehicle University
Vertical Bridge Holdings, LLC
Vertical Limit, LLC
Robert Clifford
Paul Roberts
Jay Perkins
Wyatt Musgrove
Bryan Mckernan
Robert McCoy
Denise Frey
Brian Saczynski
Abby  Speicher Carroll
Karl Schwab
Avery Brown
Wachira Reed
Yesef Trowell
Rodney Murray
Eric Taylor
David Wenzlick
James Castiglia
Jimmy Miller
Jim Goldwater
Paula Nurnberg
Todd Schlekeway
Danny Pelczarski
Jon Thies
Irina Denisenko
Sam McGuire
Jonathan Lark
Mark Foster
Mike Danielak
Tariq Rashid
Jillian Wirtel
Bill Badnaruk
Tim Dunnigan
Chad Hankins
Christopher Pugh
Heather Gastelum
JP Jones
Jordan Shelley
Daryl Morris
Jim Tracy
Josh Roetzer
Michael Deboer
Steven Roessler
NATE's UAS Committee and Working Group participants have pledged to be a source of information by providing timely updates to the Association's members and industry stakeholders as key developments emerge in the landscape surrounding Unmanned Aerial Systems.