Hurricane Florence restoration efforts in North Carolina in the past 24 hours brought the total of sites out of service to 11.8%, a 13% improvement over yesterday's outages, according to the FCC's Disaster Information Reporting System (DIRS) report for Sept. 17, 2018.
However, Onslow County saw a 31 % increase in new sites out of service, raising the county's total to 115 cell sites not transmitting, representing 51% of its 227 total sites.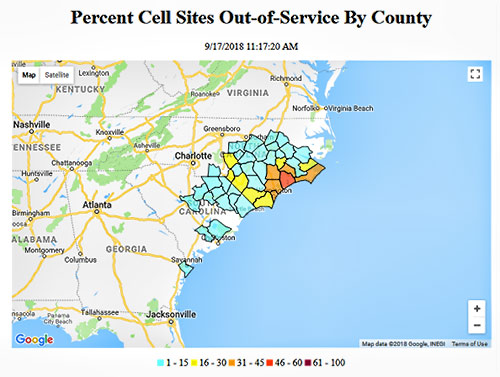 New Hanover County saw a 12% decrease in outages, but Wilmington has been cut off from ingress and egress by flooded roads and fuel resupply to generators is proving to be difficult. The county has 35% of its cell sites out of service, representing 99 of its 287 cell sites.
Many cell sites throughout the state are now operational after power was restored by Duke Energy and its partner affiliates.
Almost 670,000 people still remain without power in North Carolina as of Sunday, according to news reports.
"Our crews during the past 24 hours have made significant progress restoring power in areas of the Carolinas where it is safe to do," Howard Fowler, Duke Energy incident commander, said in a statement.
He added: "In those hard-hit areas, total power restoration might take weeks, not days, due to widespread flooding and significant damage to power lines, utility poles and other key components of the electric grid."
North Carolina*
Total Cell Sites
9/15/2018
9/16/2018
9/17/2018
Decrease/
Increase
County
 
Percent Out
Percent Out
Percent Out
From 9/16/2018
Anson
39
5.1
2.6
5.1
96%
Beaufort
65
7.7
4.6
3.1
-33%
Bladen
75
44
21.3
14.7
-31%
Brunswick
238
24.8
32.8
27.3
-17%
Carteret
103
35
45.6
30.1
-34%

Columbus

92

33.7

18.5

19.6

6%

Craven
201
33.3
19.9
12.9
-35%
Cumberland
390
27.4
15.1
13.3
-12%
Duplin
89
34.8
36
36
0%
Edgecombe
47
14.9
2.1
2.1
0%
Greene
45
20
8.9
6.7
-25%
Harnett
139
23
14.4
5.8
-60%
Hoke
52
19.2
13.5
7.7
-43%
Johnston
182
11
6.6
4.4
-33%

Jones

47

23.4

23.4

38.3

64%

Lee
79
27.8
8.9
5.1
-43%
Lenoir
87
31
26.4
17.2
-35%
Moore
147
30.6
24.5
16.3
-33%
Nash
164
1.2
1.2
1.2
0%
New Hanover
287
46.7
39
34.5
-12%

Onslow

227

37.9

38.8

50.7

31%

Pamlico

19

15.8

10.5

15.8

50%

Pender
89
34.8
32.6
31.5
-3%
Pitt
250
13.6
5.2
5.2
0%
Richmond
101
17.8
12.9
0
-100%
Robeson
149
30.9
25.5
24.8
-3%
Sampson
103
43.7
19.4
10.7
-45%

Scotland

55

29.1

21.8

25.5

17%

Wake
1131
4.2
1.4
1.3
-7%
Wayne
142
21.1
13.4
11.3
-16%
*Counties with cell sites out of service