According to the FCC's Disaster Information Reporting System (DIRS) report for Sept. 16, 2018, 13.6% of North Carolina's cell sites are out of service as a result of Hurricane Florence, down from Saturday's 18.4%, but rising flood waters are seeing some counties' outages rising.
Although the agency's out of service cell site numbers are the best information available, they don't necessarily paint a true picture since it's a county-by-county snapshot in time that can change dramatically within an hour or two since any inability to transport information between the cell site and the switch is reported as a failed cell site. Plus the averages include counties that have no outages since they weren't severely threatened by Hurricane Florence.
Carriers voluntarily provide the FCC with site information, such as whether it was an MSC failure, a power supply issue or damage. However, in an agreement struck with the carriers, they will not release that data, only providing the public with total cell site outage numbers.
Since many sites do not have backup power supply generators, contractors last week were marshaled outside of the hurricane's expected impact area with many hundreds of generators that would take over for battery backup systems that might last four or six hours once power has been lost.
However, catastrophic flooding in North Carolina is seeing some county outage totals rise since logistics crews can't reach the sites or resupply fuel for the typical supplemental 45kw to 55kw generator that might run anywhere between 24 and 48 hours, according to Chris Howell, co-owner of CB Towers.
On Friday, CB Towers, with marshaling facilities in Irwin, N.C. and Orangeburg, S.C.,  had already put in place and hooked up 49 generators.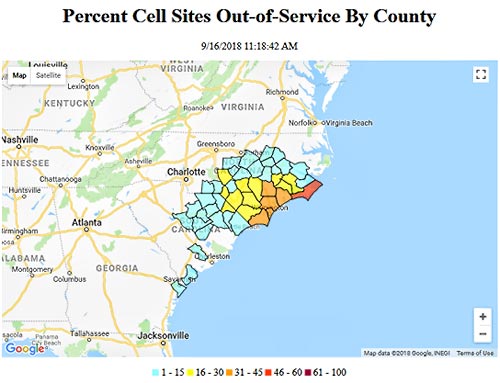 But by last night, rising floodwaters, had the company reassessing their generator deployment plans.
Heavy flooding in Brunswick and Carteret Counties may be the reason that the two counties had the highest increase (see below) in the number of cell sites out yesterday from Saturday, with an increase of 32% and 30% respectively.
Television stations status:
4 TV stations reported being out of service (WCTI, WCTI-TV, WTNG-CD, WYDO).
FM Radio stations status:
20 FM radio station report being out of service (WBNK, WCCE, WEHF-LP, WELS-FM, WFNE-LP, WFVL, WHAR, WIKS, WKGV, WKXS-FM, WLQB, WMGV, WMNX, WNBU, WOPA-LP, WRHT, WRQP-LP, WSFL-FM, WXNR, WZKT).
AM Radio stations status:
3 AM radio stations reported being out of service (WAAV, WSSG, WWMC).
North Carolina*
Total Cell Sites
9/15/2018
9/16/2018
County
Total Sites
In County
Percent Out
Percent Out
Decrease/
Increase
Anson
39
5.1
2.6
-49%
Beaufort
65
7.7
4.6
-40%
Bladen
75
44
21.3
-52%
Brunswick
238
24.8
32.8
32%

Carteret

103

35

45.6

30%

Columbus
92
33.7
18.5
-45%
Craven
201
33.3
19.9
-40%
Cumberland
390
27.4
15.1
-45%
Duplin
89
34.8
36
3%
Edgecombe
47
14.9
2.1
-86%
Greene
45
20
8.9
-56%
Harnett
139
23
14.4
-37%
Hoke
52
19.2
13.5
-30%
Johnston
182
11
6.6
-40%
Jones
47
23.4
23.4
0%
Lee
79
27.8
8.9
-68%
Lenoir
87
31
26.4
-15%
Moore
147
30.6
24.5
-20%
Nash
164
1.2
1.2
0%
New Hanover
287
46.7
39
-16%

Onslow

227

37.9

38.8

2%

Pamlico
19
15.8
10.5
-34%
Pender
89
34.8
32.6
-6%
Pitt
250
13.6
5.2
-62%
Richmond
101
17.8
12.9
-28%
Robeson
149
30.9
25.5
-17%
Sampson
103
43.7
19.4
-56%
Scotland
55
29.1
21.8
-25%
Wake
1131
4.2
1.4
-67%
Wayne
142
21.1
13.4
-36%
*Counties with cell sites out of service