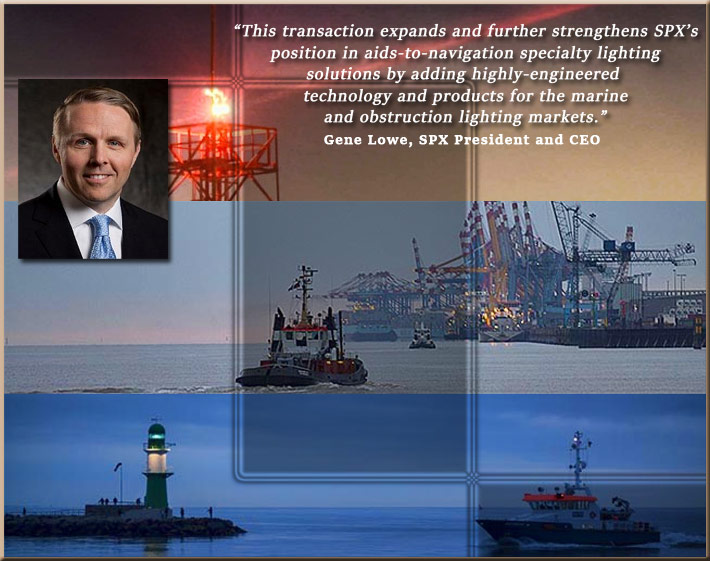 SPX Corporation, the parent company of Flash Technology, a leading manufacturer of obstruction lighting with their corporate office in Franklin, Tenn., announced Wednesday that it has entered into a definitive agreement to purchase the marine and obstruction lighting business of Carmanah Technologies Corporation for approximately $77 million.
Following completion of the transaction, the results of the purchased business will be reported with SPX's Communication Technologies businesses within its Detection & Measurement segment.
"We are excited to welcome Sabik to the SPX team," said Gene Lowe, President and CEO of SPX. "This transaction expands and further strengthens SPX's position in aids-to-navigation specialty lighting solutions by adding highly-engineered technology and products for the marine and obstruction lighting markets. We believe the combination of these industry-leading applications with SPX's portfolio of communication technologies solutions is a strong strategic fit that will provide significant value creation for our shareholders."
John Simmons, Chief Executive Officer of Carmanah, commented "We are very pleased with this transaction, which creates numerous opportunities for employees and customers alike. Combining Carmanah's high-quality lighting products with SPX's extensive infrastructure and broad distribution network is a great opportunity to further advance product development and extend the reach of these solutions to a broader customer base."
The acquired business groups have an annual revenue of approximately $27 million.