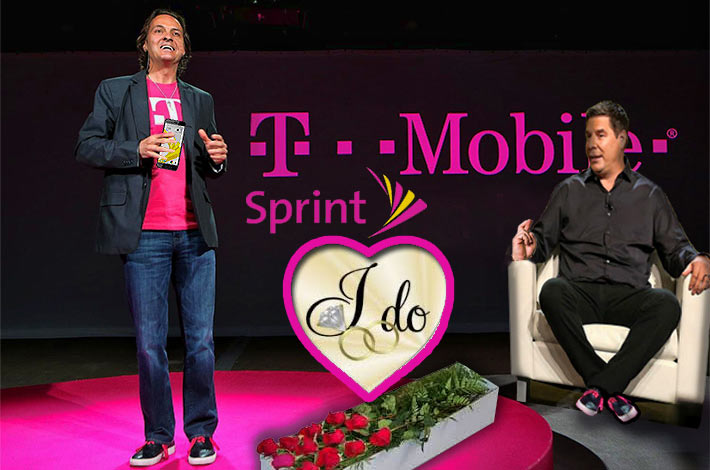 After years of negotiations, T-Mobile and Sprint announced today that they have finally agreed to tie the  knot and will merge in an all-stock transaction of 9.75 Sprint shares for each T-Mobile US share. Based upon Friday's closing share prices this represents a value of approximately $59 billion for Sprint and approximately $146 billion for the combined company.
The new company will be named T-Mobile and will be headquartered in Bellevue, Wash., with a second headquarters in Overland Park, Kan.
John Legere, current President and Chief Executive Officer of T-Mobile US and the creator of T-Mobile's successful Un-carrier strategy, will serve as Chief Executive Officer, and Mike Sievert, current Chief Operating Officer of T-Mobile, will serve as President and Chief Operating Officer of the combined company.
The remaining members of the new management team will be selected from both companies during the closing period. Tim Höttges, current T-Mobile US Chairman of the Board, will serve as Chairman of the Board for the new company. Masayoshi Son, current SoftBank Group Chairman and CEO, and Marcelo Claure, current Chief Executive Officer of Sprint, will serve on the board of the new company.
American Tower Corporation today released information about its business in light of the proposed merger between Sprint and T-Mobile US For the quarter ended Ded. 31, 2017, stating Sprint and T-Mobile US each accounted for approximately 8% of American Tower's consolidated property revenues.
The towerco said for the quarter ended Dec. 31, 2017, on sites where both companies had separate leases for antenna space, the revenue generated from Sprint represented approximately 4% of American Tower's consolidated property revenues and the revenue generated from T-Mobile US represented approximately 3% of American Tower's consolidated property revenues. The average remaining non-cancellable current lease term on these sites with Sprint and T-Mobile US is approximately three to four years.
It is expected that by tomorrow Crown Castle International and SBA Communications will announce how the merger impacts their revenues.
Sprint and T-Mobile have tried unsuccessfully to merge in the past when they were blocked by the Obama administration.
Their message to the Trump administration is expected to be that allowing them to merge will create a better 5G network than either company could have accomplished alone.
If the merger is approved, T-Mobile would have over 100 million subscribers, slightly ahead of AT&T with 93.6 million.
Senator Amy Klobuchar of Minnesota said in a statement, "I remain concerned that increased consolidation could undermine benefits to consumers."
"This combination will create a fierce competitor with the network scale to deliver more for consumers and businesses in the form of lower prices, more innovation, and a second-to-none network experience — and do it all so much faster than either company could on its own," Legere said in a statement.
The major tower owners are expected to state that the merger will benefit the industry at large since they don't want to alienate T-Mobile.