Black & Veatch, a global leader in telecom announces the release of a visually explanatory, free electronic book that explores the evolution of 5G and its significance to carriers, utilities, industries, fleet managers and municipalities. "5G: A New Digital Dawn," – the company's latest e-Book – looks at the technical aspects and the applications of the high-speed communications platform, ultimately pressing stakeholders to start preparing now.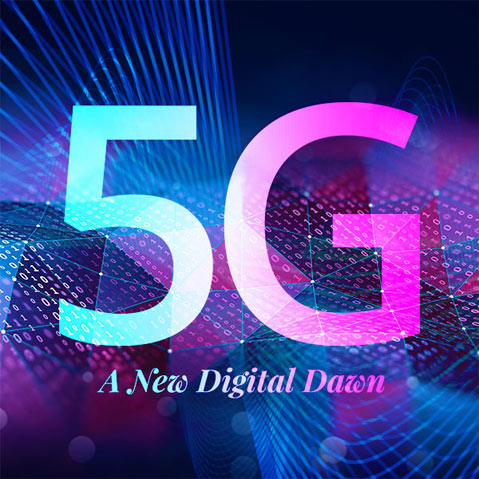 With rollouts starting this year, 5G networks are the latest iteration of mobile capabilities, offering groundbreaking connectivity, ultra-fast data-moving speeds and real-time responsiveness because of lower latency. With 5G, the full evolution of the Internet of Things (IoT) is possible, and the applications are boundless. The eBook illustrates how 5G will accelerate connected transportation, enhance telemedicine, automate electric grids, and integrate public safety systems for coordinated emergency response. For cities and industries, 5G may stoke new services and efficiencies that build wealth and deliver vital services.
Supported by existing 4G networks, which are straining to meet capacity demands, 5G is seen as the upgrade critical to enable "faster delivery of data and instantaneous connectivity to sites and devices," propelling digitalization across industries. But time is of the essence because infrastructure transformations are multi-faceted, capital-intensive efforts that require careful coordination and have long lead times for engineering, permitting and construction.
Think of deploying 5G as clicking thousands of LEGO pieces into place, knowing that doing so will take time and good planning.
"With the right guidance and the understanding that all-hands-on-deck collaboration is key, making the migration to 5G doesn't have to be intimidating. The rewards can be profound," said John Janchar, president of the telecommunications business at Black & Veatch.
With 5G on the cusp of reality, it's time for carriers, utilities, industries, fleet managers and municipalities to get ready for the "next gig thing." Although adapting to 5G may appear overwhelming to many stakeholders, the eBook outlines a few well-planned strategic actions for each stakeholder to get started. Broadly, all stakeholders are urged to get ready for data, identify the 5G capabilities needed for their future states, rethink their policies and procedures regarding technology protocols, and hire enough staff to support new systems and capabilities, including data management.