Last week, InSite Wireless Group, one of the largest privately-owned tower and wireless infrastructure companies in the U.S., announced the expansion of its broadcast tower portfolio by entering into a management agreement with Tegna Inc., a TV broadcast group, to provide operational support as well as marketing services for Tegna's wholly owned broadcast towers.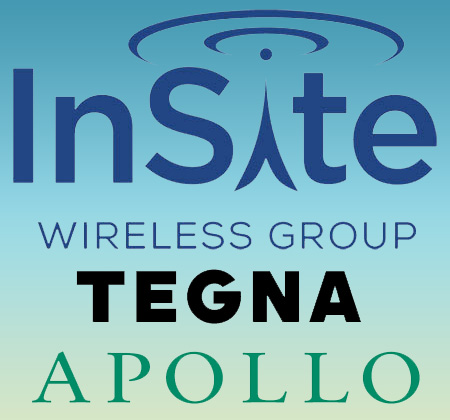 However, at the time, it's not known if InSite knew that Tegna was being courted by Apollo Global Management, which is in a process of buying the Cox TV stations whose towers were acquired by InSite in 2015.
In a statement yesterday, Tegna said it "received a letter from Apollo in late February 2019, stating that Apollo was interested in acquiring Tegna without specifying a price. Subsequently, in June 2019, Apollo made a different proposal, to combine Tegna with broadcasting assets Apollo is in the process of buying, in a transaction that would not have constituted a change of control of Tegna." The statement noted that the company does not plan to offer an update on the disclosure.
"The Tegna tower sites are a great complement to our already robust broadcast tower facilities across the U.S.," said David Denton, senior vice president for broadcast, InSite. "We are excited to be working with the Tegna team to create greater asset value for their sites while safeguarding these mission critical assets."
"Working with InSite will improve our ability to support, maintain and monetize our Tegna-owned broadcast towers," said Robert Lydick, vice president, information technology and station operations, Tegna. "We chose InSite for its industry expertise and we look forward to working with the InSite team to drive value for Tegna and our portfolio of broadcast towers."