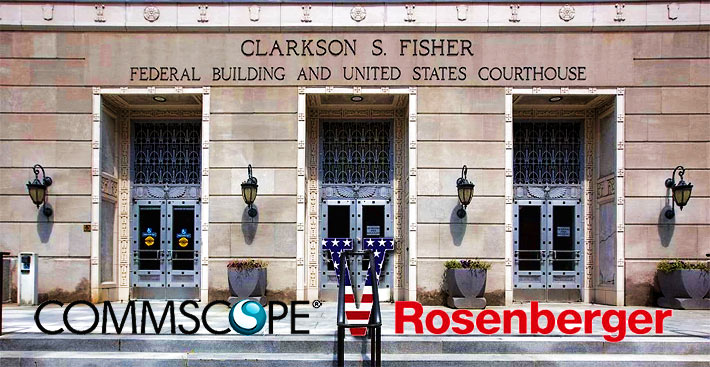 Seventy-seven days after CommScope filed a lawsuit in the U.S. District Court for the District of New Jersey against Rosenberger's worldwide companies, CommScope issued a short press release yesterday announcing the complaint that alleges Rosenberger misappropriated CommScope's trade secrets related to base station antennas, including trade secrets related to CommScope's proprietary software programs and CommScope's base station antenna hardware.
In its July 29, 2019 complaint, CommScope also asserts that former CommScope employees, now employed by Rosenberger, Janet Javier and Robert Cameron, also named in the lawsuit, breached their post-employment legal obligations owed to CommScope.
Rosenberger, in its answer to the complaint, denied all allegations or identified that they did not have enough information to form a belief as to the truth of the allegations.
Rosenberger also denied that Andrew Antenna Analysis Program (AAAP) and Particle Swarm Optimization Antenna Analysis (PSOA) are "trade secret software programs" and CommScope has failed to show in its complaint that they "are actually trade secrets under the law."
However, Judge Madeline Cox Arleo on August 29, held a seizure hearing that would allow specific Rosenberger's computers seized by Federal law enforcement officers to be narrowly searched by a technical expert seeking the following search terms: AAAP*.exe, AAAP*msi, PSOAA*.exe and SatimoMacroGenerator*.exe.
In a motion on Friday by Rosenberger to dismiss the lawsuit against its various entities, the company argued that CommScope claims that AAAP and PSOAA are trade secret programs, and that they use those programs to design and develop BSAs for sale in the United States.
Rosenberger also said that CommScope alleges that all of the eight Rosenberger entities conspired to misappropriate unspecified "trade secret hardware" relating in some way to BSA design, but without providing any description of the alleged "trade secret hardware."
They also noted that CommScope claims that all of the Rosenberger defendants conspired to hire away CommScope's former employees Javier and Cameron, but the company states that some entities of the conglomerate are not involved in BSAs.
Rosenberger is requesting the court dismiss the complaint against, Rosenberger USA Corp., Rosenberger North America Pennsauken, Inc.; Rosenberger Site Solutions and Rosenberger Hochfrequenztechnik GmbH & Co. KG for lack of personal jurisdiction and failure to state a claim upon which relief can be granted.
On an unopposed motion by Rosenberger yesterday, the court agreed that Rosenberger and its customers would be seriously injured if the confidential information being requested by CommScope were made public in court documents and they will be sealed, including a copy of CommScope's complaint which has been removed from court records.
"CommScope innovates, designs, manufactures, and sells best-in-class telecommunications products and equipment around the world," said Farid Firouzbakht, senior vice president of RF Products for CommScope.  "CommScope has taken this action to protect the company's significant investments in developing innovative products that provide superior value to our network infrastructure customers."
On Friday, CommScope agreed to a technology transfer deal covering base station antennas with Fractus, as part of a deal to settle a patent dispute with the Spain-based company.
Terms of the agreement involve Fractus transferring its entire portfolio of base station antenna patents to CommScope, and dropping a lawsuit filed in April accusing CommScope of using its technology without a licence.