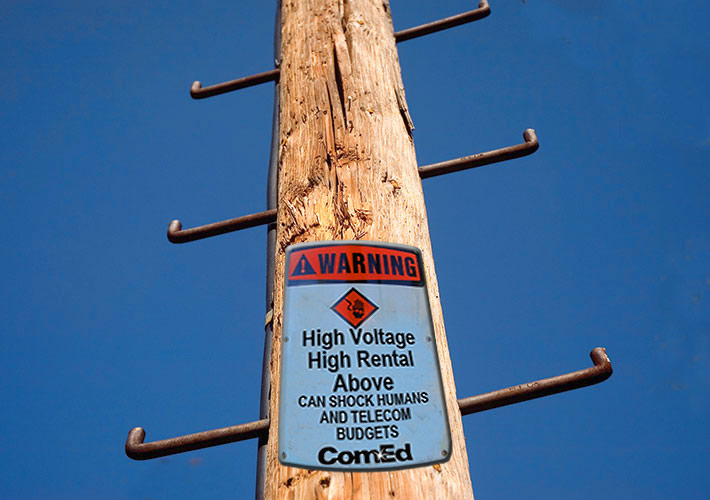 Crown Castle Fiber has accused Illinois utility Commonwealth Edison (ComEd) of breaking FCC rules by charging excessive pole attachment fees and denying the company access to hundreds of poles.
In its complaints filed with the FCC, Crown Castle alleges that ComEd refuses to recognize that wireless attachments are subject to FCC rules, and as a result, the utility has charged rental rates that are 10 times higher than the lawful rates calculated by the FCC.
Crown says that not only has ComEd been charging excessive rates for solely owned poles, it has applied 100% of those rates to fiber attachments to poles that ComEd jointly owns with AT&T and for which Crown Castle is required to, has paid, and continues to pay AT&T rent.
Crown Castle said in its complaint that rather than apply a rate to reflect AT&T's shared ownership of the pole, ComEd is charging Crown Castle the full rental rate even in cases where Crown Castle is also paying AT&T for AT&T's shared ownership of the pole.
Crown Castle wants a refund for excessive charges from 2013 through 2018,, but the amount being requested has been redacted in the complaint.
Crown Castle is also asking the FCC to order ComEd that the maximum lawful amount per foot of useable space that can be charged is $14.00 for poles that ComEd wholly owns and half that amount for jointly owned poles with AT&T.
They're also requesting that ComEd be prohibited from charging more than $84.00 for wireless attachments to poles ComEd owns and $42.00 for those jointly owned with AT&T.
Crown Castle is also asking the FCC to investigate ComEd's alleged refusal to permit the company to attach to poles that have been "red tagged" by ComEd unless and until Crown Castle first pays to replace or reinforce those red tagged poles, even though the conditions that caused the red tag status existed prior to and are unrelated to Crown Castle's proposed attachment.
Crown Castle said that ComEd's denial of access to the red tagged poles and demands for payment as a condition of access have impacted applications for 1,202 poles and has already cost Crown Castle over $14,000,000. ComEd's actions are directly contradicted by the Commission's One Touch Make-Ready Order, Crown Castle alleges.