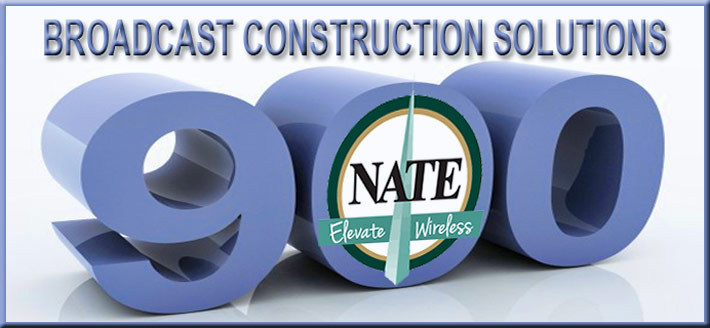 The National Association of Tower Erectors (NATE) announced today that it has established a new all-time record for member companies, reaching the 900 member mark for the first time in the organization's 24-year history. Broadcast Construction Solutions, a San Antonio, Texas based company, has the special distinction of becoming the 900th NATE member company.
"NATE member companies encompass all layers of the diverse wireless, broadcast, utility, public safety and technology infrastructure chain and this new membership milestone reflects that fact," said NATE Member Services Committee Chairwoman Jordyn Ladner from MillerCo, Inc. in Gulfport, Mississippi. "NATE has a great story to tell as our Association's member companies are currently on the front lines enabling connectivity around the globe and the Member Services Committee looks forward to positioning the organization for future," added Ladner.
"We are celebrating this special achievement at NATE as this new record is testament to the tangible benefits and services the Association offers its members," stated NATE Member Services Coordinator Rebekah Hauber. "As the industry continues to grow and evolve at a rapid pace, the Association is committed to continue to expand and diversify our membership base moving forward," Hauber added.
"Broadcast Construction Solutions is excited to be recognized as the 900th member company to join NATE," said President, Patrick Moore. "As a company that is heavily involved in the broadcast repack transition, we look forward to becoming an active participant in the Association and taking advantage of the network of industry professionals, safety resources, and other benefits  that NATE provides to its members."
NATE member companies consist of tower construction firms, general contractors, tower owners, wireless carriers, engineering firms, technology companies, public safety entities, non-profit organizations, licensed design professionals, manufacturers, distributors and training companies.  For NATE membership information, companies and industry stakeholders are encouraged to call (605) 882-5865 or visit the Association's website at http://natehome.com/membership.