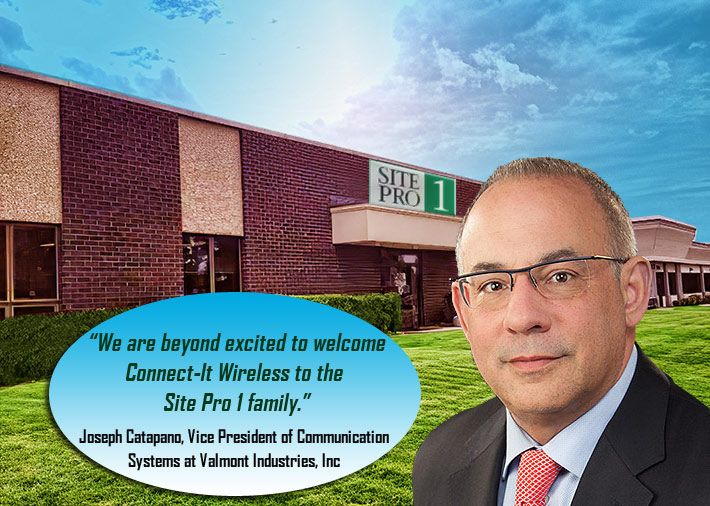 Site Pro 1, an industry-leading manufacturer and distributor of wireless site components and safety products, announced today that it has acquired the operational assets of Connect-It Wireless, distributor of wireless site components in the United States. Connect-It Wireless will operate under the Valmont Site Pro 1 brand.
Connect-It Wireless, founded in 2003, quickly became one of the industry's key providers of cell tower site equipment and accessories. This growth was bolstered by their commitment to provide innovative products at the highest quality standards and exceptional customer service.
"Site Pro 1 has always committed to put our customers first – providing the best products, shipped rapidly with stellar customer service," said Joseph Catapano, Vice President of Communication Systems at Valmont Industries, Inc. "This is a commitment that Connect-It Wireless has shared, and with the fusion of both teams, we are better able to fulfill this mission and continue as an innovator at the forefront of the industry. We are beyond excited to welcome Connect-It Wireless to the Site Pro 1 family."
Jim Schultz, co-founder of Connect-It Wireless with his wife, Faith, added, "Valmont Site Pro 1 is a respected name in our industry, and we are like-minded in our customer-centric approach and commitment to providing innovative, quality products. It is a natural fit."
In an announcement this morning to their clients, Jim and Faith, who have been in the wireless industry for 30 years, said that the Valmont Site Pro 1 acquisition of their firm will provide the growth opportunities that they desire both for their company and their employees.
"It also allows Connect-It Wireless to continue to service our customers in the manner to which they have been accustomed for the last 16 years. We are optimistic and excited at what the future holds for us in the fast-growing wireless industry."
With eight warehouse locations around the United States, Valmont Site Pro 1 / Connect-It Wireless  is the industry's premiere manufacturer and distributor of wireless site components and safety products.
They offer same day, rapid shipping from any of their eight locations in New York, Georgia, California, Indiana, Oregon, Texas and Florida.
For more information about Valmont Site Pro 1 or Connect-It Wireless, visit www.sitepro1.com, or www.ciwireless.com.