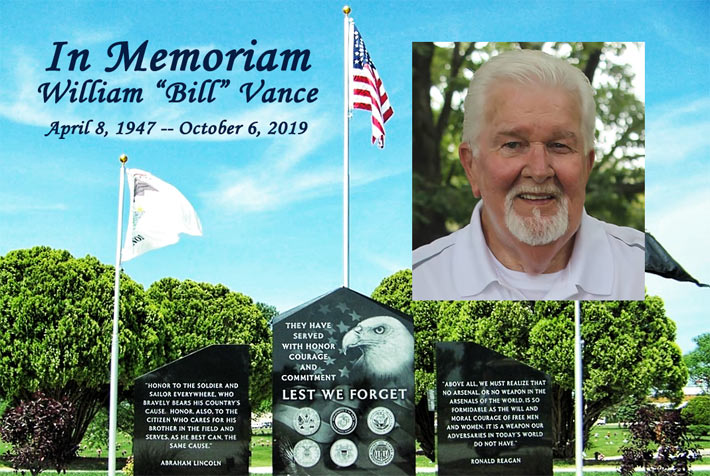 Active in the wireless construction industry for many years and a strong safety advocate, William Leon "Bill" Vance, 72, of Taylor, MO passed away on Oct. 6, 2019.
Vance had been selling pagers and entered the industry when he joined Rhodes Tower Services.
Vance retired from Midwest Underground Technology Inc., where he served as Vice President of Operations.
He was on the Board of Directors of the National Association of Tower Erectors from 2002-2003, and served as an OSHA Relations Committee Member from 2003-2004 and as OSHA Relations Committee Board Oversight from 2002-2003.
"He always had a soft spot in his heart for NATE," said his wife Jan, who attended some of the association's conferences. "I know that he mentored many and safety was a priority."
In 2004, Vance and Steve Wilder founded the Communications Industry Training and Certification Academy (CITCA). He was also a frequent go-to resource for Wireless Estimator for advice regarding safety initiatives.
Vance was a proud veteran of the U.S. Navy, where he enlisted at the age of 17 as a radarman and served two tours in Vietnam. He also helped start the VFW in Mount Sterling,
In addition to Jan, he is survived by a daughter Michele (Todd) Baker of Taylor, Mo.; two sons, William Leon "Bill" Vance II (Tonya Cox) of Ft. Smith, Ariz., and Chris Vance (Chealsey Francios) of Quincy; eight grandchildren; six great-grandchildren, four sisters, Carolyn (Bob) Tate, Connie DeJaynes, Vickie (Terry) DeJaynes and Linda Bell; five brothers, Richard DeJaynes, Dale DeJaynes, Lloyd DeJaynes, Gary DeJaynes and Tim DeJaynes..
He was preceded in death by his mother; two brothers, Alvin DeJaynes and Michael DeJaynes; and one grandson, Shadley Michael Vance.
A celebration of life and services will be held at 2 p.m. Friday, Oct. 11, 2019, at Quincy Memorial Park.