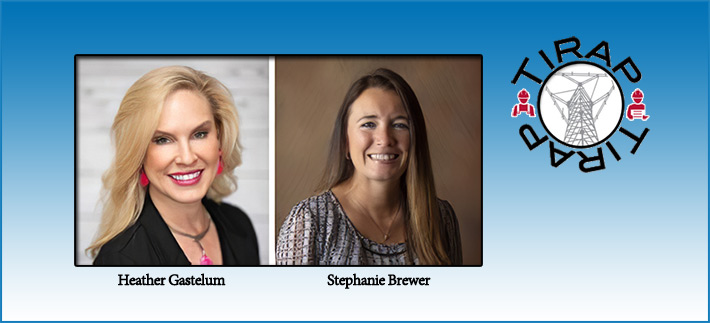 The Wireless Infrastructure Association (WIA) has announced that Heather Gastelum, T-Mobile's senior manager for national site safety & T-Mobile for Business Development, and Stephanie Brewer, Compliance Coordinator for MUTI-Sabre Industries Telecom Services, were elected to serve on WIA's Telecommunications Industry Registered Apprenticeship Program (TIRAP) Advisory Board.
"The TIRAP Board welcomes Heather and Stephanie and appreciates their vision toward building a trained and safe telecommunications workforce through apprenticeships. TIRAP is empowered when experienced leaders like Heather and Stephanie join in furthering our mission," said TIRAP Chairperson Paul Roberts, Vice President, Compliance, American Tower Corporation.
"TIRAP's Advisory Board is expanding with just the right new members at a time when the industry is growing and when wireless workforce jobs are in the greatest demand," said WIA President and CEO Jonathan Adelstein. "We welcome Heather and Stephanie's leadership to the Board and admire their commitment to the workforce and their leadership to diversify the industry. The TIRAP Board will grow stronger with their engagement."
"Apprenticeship-based training is effective and practical for an industry where hands-on education and in-the-field mentorship is crucial," said Grant Seiffert, TIRAP Executive Director and WIA's Vice President of Workforce Development. "We are thrilled to bring Heather's and Stephanie's expertise to the TIRAP Advisory Board as we continue to forge ahead in developing a trained wireless workforce."
With more than two decades in the wireless industry, Gastelum also serves on the Board of Governors of the National Wireless Safety Alliance, as well as NATE's Wireless Safety Task Force and the Tower Industry Association's TR-14 Structural Committee, the TIA UAS Committee, the TIA Climbing Facilities Committee, the Women of NATE Committee and is the Washington State Liaison on the Wireless Industry Network. She is also the Lean-In co-lead to the Women's Leadership Network at T-Mobile's headquarter office in Bellevue. Since joining T-Mobile in 2008, Gastelum has managed a tower portfolio of more than 8,000 sites and her leadership helped sell T-Mobile Towers for more than $2.4 billion.
Joining MUTI in 2007, Brewer has worked in many areas of the organization but most recently Risk and Compliance, overseeing client contract management, subcontractor management, licensing, insurance and leads the continuous improvement process for organizational policies, procedures and systems. She actively participates in the National Wireless Safety Alliance (NWSA) initiatives by serving on the Board of Governors, and the Written Exam Management Committee. She is an active member of the National Association of Tower Erectors (NATE) participating on the Women Of Nate (WON) committee, Member Services sub-committee and the ANSI/ASSP A10.48 editing committee.  She also is a member of APEX, Avetta's Customer Advisory Board.