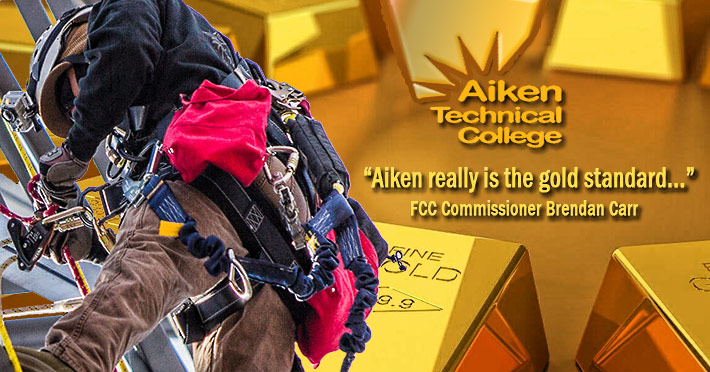 Although it's difficult to assess exactly how many additional trained tower technicians America needs to build out 5G, it's clear that there is a shortage of skilled workers and Aiken Technical College (ATC) in South Carolina is helping to fill that gap with the nation's most successful tower and wireless installation training program.
After observing the ATC program in Graniteville on Thursday along with South Carolina Congressman Joe Wilson, FCC Commissioner Brendan Carr informed Wireless Estimator in an interview that "Aiken really is the gold standard" in terms of providing a course that can take someone with no schooling and have them certified as a valuable Telecommunications Tower Technician 1 (TTT-1).
Carr said that in his travels throughout the country, many technicians and company owners had identified that the ATC model was the best training program in the industry.
He said he would like to see America build on the success of  Aiken's program and see other community colleges develop similar tower training programs to address the country's need for more TTT-1 certified workers and help close the skills gap.
Carr said he is already working toward that goal with efforts underway through the National Wireless Safety Alliance (NWSA) to establish similar programs in other communities.
NWSA Executive Director Duane MacEntee informed Wireless Estimator that "The NWSA is grateful to be participating with Commissioner Carr and the FCC as they support and help promote the vital role our industry's tower technicians play in winning the race to 5G."
"As our industry continues developing the skilled workforce needed to build a 5G wireless ecosystem, the NWSA serves the role of providing independent worker assessment and certification programs. Training efforts such as Aiken Technical College's Tower Installation program, followed by successful completion of NWSA TTT-1 certification, provide necessary entry-level skills and validation of new worker qualifications. This gives employers confidence to hire, while saving time and money," MacEntee said.
The ATC program lasts 7 or 12 weeks, with classes three days a week from 8 a.m. to 5 p.m. It covers safety, basic rigging and fall protection, principles of electricity, fiber optics, wireless technology, cell components, antenna basics, and spectrum management.
On average, ATC students receive about 25 to 30 hours of climbing time during the basic program and to graduate, they must demonstrate an ability to climb to at least 280 feet.
ATC's program was founded in 2014 through the efforts of Dr. Gemma Frock, the school's vice president of institutional effectiveness and accreditation. Dr. Frock also serves on NWSA's Board of Governors.
During their visit, Carr and Wilson met with college administrators and the tower and wireless installation program advisory committee, instructors and students, and toured the indoor tower lab. Carr, who has climbed numerous towers during his cross-country visits, climbed to the top of a 90-foot training tower.
"Here at Aiken Tech, Gemma Frock and her team have built a seven-week program that provides climbers with the right mix of physical, safety, and technical skills to land a good-paying job in this field," Carr said.
20,000 new tower climbers needed
Carr said that an additional 20,000 skilled workers are needed to build out 5G. He informed Wireless Estimator that his estimate was based upon information provided by the National Association of Tower Erectors as well as a number of companies informing him that they were looking to double their crews.
He also cited Ericsson's new employment needs, stating that they alone were looking to hire and train 400-to-500 tower technicians.
Two of the industry's largest safety training companies said that they have seen a dramatic increase in worker training over the years and believe that the nation's climber count has increased, although they could not immediately identify what percentage of their students were new hires.
Wireless Estimator's job board, the largest in the nation for wireless construction positions, is oftentimes used by analysts to assess workforce requirements. Today's 770 job postings represent one of the greatest number of positions available in the past five years.
The Southeast leads the nation in job offerings.