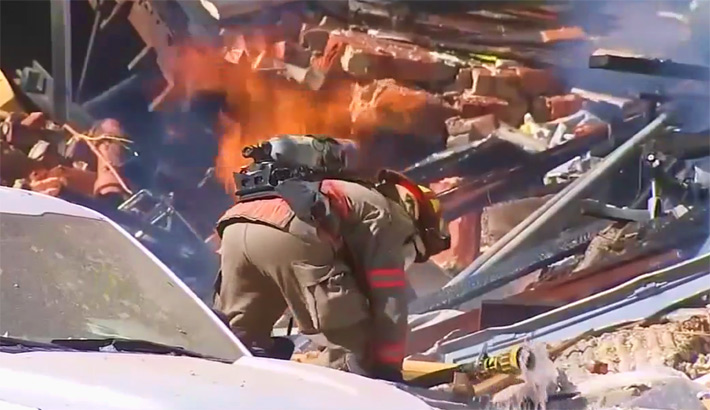 As part of a state investigation, Dominion Energy will begin excavation this week under a site where an explosion in downtown Durham, N.C. on April 10 killed a 61-year-old coffee shop owner and injured 25 people when a Crown Castle subcontractor struck a gas line causing the blast that severely damaged 15 businesses.
City officials have said a contractor laying fiber optic cable struck the gas line, but they have not identified the company responsible for the tragedy.
Crown Castle has said its subsidiary, Fiber Technologies Networks, hired the contractor that struck the line, but has not provided the contractor's name.
However, PS Splicing alerted 811 that it would be performing work in the area, and reported damage to the line. It's CEO was severely injured in the blast, the News & Observer reported, but Don Smith reportedly was not doing the work himself but was viewing the installation.
Rodney Fields, vice president of PS Splicing, confirmed Smith's injuries last week.
"He's stable, but that's about it," Fields said. "He's got a long way to go."
"He lost part of his ear, lost his eye, 45 percent of his body was burned, broken ribs, collapsed lung, and his shoulder's tore up pretty bad," Fields informed the newspaper.
"He took the brunt of the blast."
The Durham Fire Department is investigating what sparked the explosion that leveled 115 North Duke St. and damaged 15 other buildings.
Eight of nine injured firefighters have returned to work.
The 911 recording was posted online by Durham officials.
"The emergency is: We have hit a gas service … probably need a little police presence until the gas company can get here to shut the leak off," the worker says.
Referring to the leaking ¾" line, the caller says: "I don't think it's completely in two, but we can smell it."
During the call about 30 minutes before the explosion, the unnamed worker gives the location as the address for the building that eventually collapsed.