Three tower technicians were killed this morning in Germany when the man basket they were working from broke loose from a TV broadcast tower at the 164-foot level, throwing them to their death.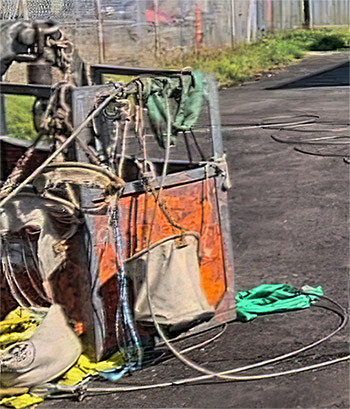 According to multiple news reports, they had been working on the mast approximately 18 miles southeast of Kassel in the Hoher Meissner hills when the accident occurred.
The tower is owned by regional public broadcaster Hessischer Rundfunk (HR), who offered their sympathies to the workers' families. The men were employed by a Berlin-based erector and were installing a new antenna.
The Hoher Meissner complex has three towers up to 725 feet in height and HR said initial reports indicated the accident happened on the tallest of the three.
The towers were erected around 1955.
Police and the Office of Occupational Safety and Security of the Regional Council of Kassel determine the causes of the accident. Initial observations point to a mechanical defect in the winch.
The workers' ages were, 50, 46 and a 27-year-old.