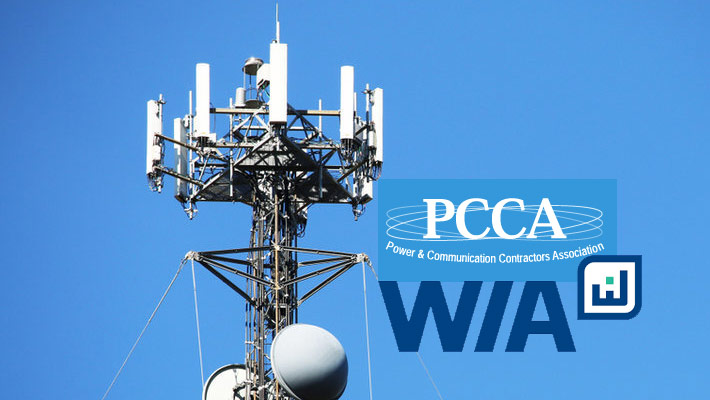 The Wireless Infrastructure Association (WIA) and the Power and Communication Contractors Association (PCCA) announced today that they will work together to expand training initiatives to establish a stronger wireless workforce with the skills needed to deploy 5G networks. PCCA has developed successful utility technician training programs at community colleges and plans to enhance them with WIA's wireless curricula to teach workers skills they need for 5G. PCCA and WIA jointly briefed FCC Commissioner Brendan Carr on their plans today. Commissioner Carr has made a priority of supporting 5G workforce development.
Commissioner Carr praised the initiative. "Today's announcement is more good news for 5G. Community colleges and technical schools are an ideal training ground for 5G jobs, and these programs will help ensure we have the skilled workforce in place to deploy next-gen networks. I look forward to working with PCCA and WIA to stand up more of these programs across the country, creating a pipeline for Americans to land good-paying infrastructure jobs," said Commissioner Carr.
"PCCA's utility tech program is the perfect platform on which to build 5G skills using WIA-developed content. The WIA-PCCA initiative is a strong step toward building a 5G-ready workforce that Commissioner Carr has championed. Fiber is an integral part of 5G, so we need to train those laying it in properly connecting antennas, as well," said WIA President and CEO Jonathan Adelstein. "To properly build the networks of tomorrow, we also need apprenticeships like those supported by TIRAP, in which PCCA members can participate, backed by this new training effort."
"This collaboration will provide immeasurable benefits to participating companies, workers, and the broader economy. We look forward to what will surely be a fruitful endeavor with WIA," said PCCA President Dave Aubrey of Okay Construction. "President Trump has spoken about the importance of 5G workforce development, and this partnership will help make his vision a reality. Our association represents the vast majority of companies constructing broadband networks across the country, and the industry continues to face considerable workforce capacity challenges. While many PCCA members are currently working with trade schools and community colleges, we support all efforts to facilitate these relationships. PCCA appreciates FCC Commissioner Carr for his leadership in 5G workforce development, and we look forward to working with WIA and the FCC on this important issue."
As the leading organization representing infrastructure businesses that enable mobile communications, WIA has developed the Telecommunication Education Center (TEC), a dynamic learning program designed to train the wireless workforce for the future. WIA is also the National Sponsor of the Telecommunications Industry Registered Apprenticeship Program (TIRAP), a public/private partnership that has brought the apprenticeship model into the wireless industry. TIRAP's mission is to promote safety, enhance quality, and enable advancement opportunities in the telecommunications workforce. Through these cutting-edge programs, WIA is leading the effort to develop a 5G-ready workforce.
PCCA is the premier organization for power and communications contractors. PCCA works to develop and endorse utility construction programs for technical schools and community colleges around the nation. PCCA member Sellenriek Construction in Jonesburg, Mo. has been working with the State Technical College of Missouri, and students started in the school's new Utility Systems Technician program in the fall of 2018. PCCA and Push, Inc. helped develop a utility construction technician program at the Wisconsin Indianhead Technical College in Rice Lake, Wis., and classes began in November 2018