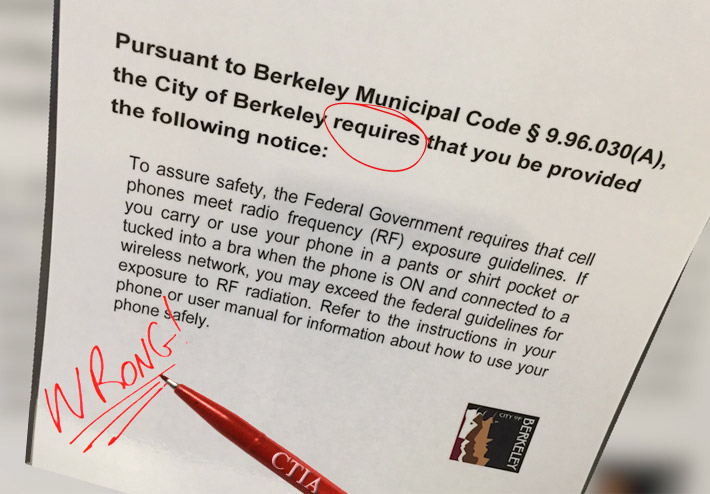 A federal judge ruled last week that Berkeley, California cannot require cell phone retailers to warn customers about the possible radiation dangers from holding phones close to their bodies, a conclusion that was largely based upon the FCC's assessment that the warnings are unneeded and would be injurious to business.
U.S. District Judge Edward Chen wrote in an 18-page order "the FCC could properly conclude that the Berkeley ordinance — as worded — overwarns and stands as an obstacle to the accomplishment of balancing federal objectives by the FCC."
Berkeley's 2015 ordinance provided cell phone exposure guidance, however, CTIA disagreed with it and filed a lawsuit in the Northern District of California and received a ruling in their favor, the court finding that the ordinance language was problematic.
CTIA also argued that the ordinance violated First Amendment rights .
A modified ordinance deleted the troublesome language, "This potential risk is greater for children," and the court's injunction was lifted.
CTIA then appealed to the Ninth Circuit court and in 2017 the court affirmed the district court's ruling and the ordinance survived a challenge from the U.S. Supreme Court.
The Supreme Court vacated a prior ruling upholding the challenged ordinance and sent the case back to the Ninth Circuit.
The Ninth Circuit again upheld the law and returned it to the District Court this July.
CTIA motioned for judgment, arguing that the FCC in December 2019 issued an "opinion and order on radiofrequency emissions that upends the landscape of this case in several important ways, fatally undermining the city's arguments in defense of the ordinance and the very basis on which the Ninth Circuit affirmed this court's decision."
On Thursday, Judge Chen ruled in favor of CTIA, finding Berkeley's ordinance is preempted by a 2019 FCC RF update that found "even if certified or otherwise authorized devices produce RF exposure levels in excess of Commission limits under normal use, such exposure would still be well below levels considered to be dangerous, and therefore phones legally sold in the United States pose no health risks."
Because the court found that Berkeley's ordinance was preempted, it would not address CTIA's argument that the ordinance also violates the First Amendment.
"This is an extremely important victory for American consumers and the nation's economy. The court got it right, correctly affirming the FCC's authority to establish reasonable guardrails to guide both the wireless industry and local governments in their shared goals of speeding the deployment of next-generation wireless networks and maintaining U.S. leadership in the emerging 5G economy," said CTIA President and CEO Meredith Attwell Baker.