UPDATE: June 15, 2020 —  OSHA has identified that the company decommissioning an AT&T sector in Seale, Alabama when the structure collapsed was Strong Tower Enterprises of Brownwood, Texas. According to individuals knowledgeable of the incident, the tower techs that miraculously survived when they rode the tower down from about the 225-foot level were Qualyan Moore and an unnamed minor, both from Texas.
---
June 4, 2020 — A 349-foot guyed tower collapsed Monday in Seale, Alabama while two tower techs were tied off to it at around the 225-foot level.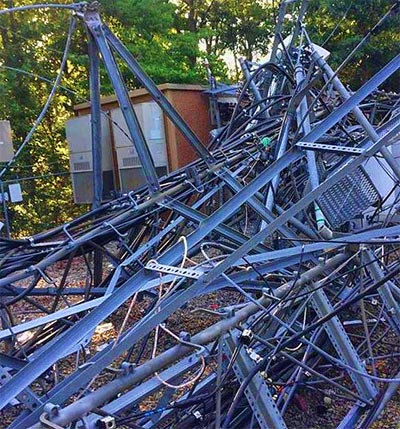 Miraculously, one man literally walked away bruised and his co-worker was hospitalized with injuries to his leg.
Individuals knowledgeable of the accident, and as can be seen in the above photograph obtained by Wireless Estimator, are in awe that anyone could have survived the torrent of steel that collapsed in the multi-tenant compound.
The structure, located off of Highway 431, was constructed in 2001 and was acquired from Optasite Towers LLC by SBA Communications in 2007.
Sources have informed Wireless Estimator that the tower crew was decommissioning an AT&T mount when their rigging failed, dropping the mount on a guy wire and collapsing the tower.
Upon confirmation, the turfing vendor and subcontractor information will be provided in an update along with additional details as they become known.