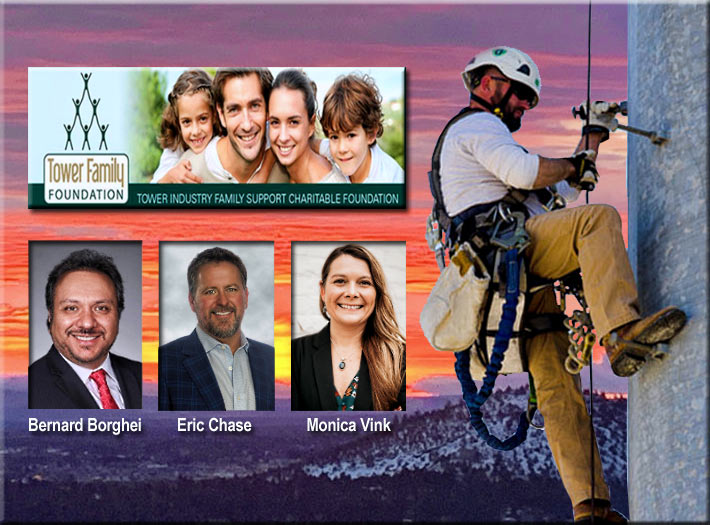 The Tower Family Foundation announced today appointments to the non-profit organization's leadership team. Bernard Borghei and Eric Chase have been chosen to serve on the foundation's Board of Directors and Monica Vink has been appointed to the organization's Endowment Committee.
Borghei and Chase will help provide overall governance and stewardship to the Foundation and play a leading role enhancing the organization's visibility in the marketplace.
Borghei currently serves as Executive Vice President of Operations and Co-Founder at Boca Raton, Florida-based Vertical Bridge, the largest private owner and operator of communications infrastructure and locations in the United States.
Chase is the Chief Executive Officer at Enertech Holdings, LLC in New Braunfels, Texas, a turnkey services company, and has been building critical communications infrastructure for over two decades.
Vink, who is the Digital Marketing & Communications Director for PerfectVision Manufacturing in Little Rock, Arkansas, will assist in facilitating fundraising opportunities for the Tower Family Foundation. She will also serve as an ambassador for the organization at state wireless association functions and other industry events held throughout the country.
"We are elated to welcome Bernard, Eric and Monica to the Tower Family Foundation leadership team," said Board President Jim Tracy from Gig Harbor, Washington. "They are accomplished and respected executives who embody the values and bedrock principles that this organization was founded on: leadership, integrity and transparency. Having them in these roles will be a tremendous asset for the industry technician workers and families whom the Tower Family Foundation is committed to serving."
The Tower Family Foundation is a 501(c) (3) non-profit organization that provides financial assistance and scholarships to family members of a severely injured, permanently disabled, or deceased tower worker injured or killed in an accident stemming from working at heights on communication structures or other on-the-job related activities that tower workers are involved in on a daily basis.
Since its inception in 2014, the Tower Family Foundation has awarded $821,000 in donations and scholarships to eligible tower workers and their families. Vilhauer, Raml & Snyder LP, an independent certified public accounting firm, has calculated that over 97 cents of every dollar donated to the Tower Family Foundation goes directly to eligible benefactors.
Borghei and Chase will join Board Members Jim Coleman, National Tower Safety Manager for AT&T; Craig Lekutis, Publisher of WirelessEstimator.com; Cliff Barbieri, President of Advanced Tower Services, Inc.; and Victor Drouin, President of Green Mountain Communications, Inc.
Vink will assist Endowment Committee members Tracy, CEO of The Legacy Companies; Paula Nurnberg, Chief Operation officer of the National Association of Tower Erectors; Wade Collins, Director for Business Development at Flash Technology; and Willie Goldman, Southeastern Regional Business Development Manager for Drake Lighting, LLC.
Interested stakeholders are encouraged to visit the Tower Family Foundation's website at www.towerfamilyfoundation.org, to learn more about the organization and make an online contribution.