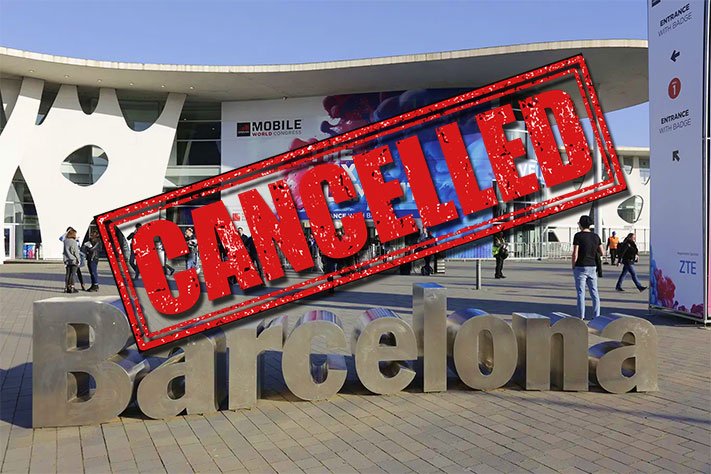 The world's biggest wireless show, Mobile World Congress (MWC), is no longer taking place this year in Barcelona after the coronavirus threatened to throw MWC into turmoil.  The GSM Association (GSMA), which organizes the show, has now canceled it. It comes after more than a week of exhibitors and companies pulling out.  One of the more recent cancellations came from CommScope.
In a statement, GSMA CEO John Hoffman said the coronavirus outbreak has made it "impossible" to hold the event. MWC was scheduled to take place in Barcelona between February 24th and the 27th.
"With due regard to the safe and healthy environment in Barcelona and the host country today, the GSMA has cancelled MWC Barcelona 2020 because the global concern regarding the coronavirus outbreak, travel concern and other circumstances, make it impossible for the GSMA to hold the event. The Host City Parties respect and understand this decision. The GSMA and the Host City Parties will continue to be working in unison and supporting each other for MWC Barcelona 2021 and future editions. Our sympathies at this time are with those affected in China, and all around the world."
It is not known if the show's cancellation will increase attendance at the National Association of Tower Erectors' conference scheduled for February 17-20 in Raleigh, North Carolina, since some exhibiting companies attend both shows. Exhibitor presence at the Raleigh conference is reportedly already at a record high count.
It hasn't been identified whether GSMA will refund its exhibitors' show fees and expenses.
The last time that a major wireless show cancellation occurred was 19 years ago when PCIA President Jay Kitchen cancelled his association's annual convention in Los Angeles shortly after 9/11.
"I think one of the finest decisions that I made while I was running an organization was the decision to pack up everybody and send them home and refund all of the money to the exhibitors that had paid to be at the show," Kitchen said years later.
The decision hurt the association, causing it to drop in size and take a financial shellacking.
"I go back to say it was a decision that I made based on what my integrity told me I had to do. To cancel that show was a huge decision for the association. But I made it and still stand by it," Kitchen said in an RCR Wireless News interview.
PCIA rebounded and rebranded as the Wireless Infrastructure Association (WIA) under the leadership of former FCC Commissioner Jonathan Adelstein.
WIA's next show, Connect (X) 2020, will be held in Miami, May 18-21.