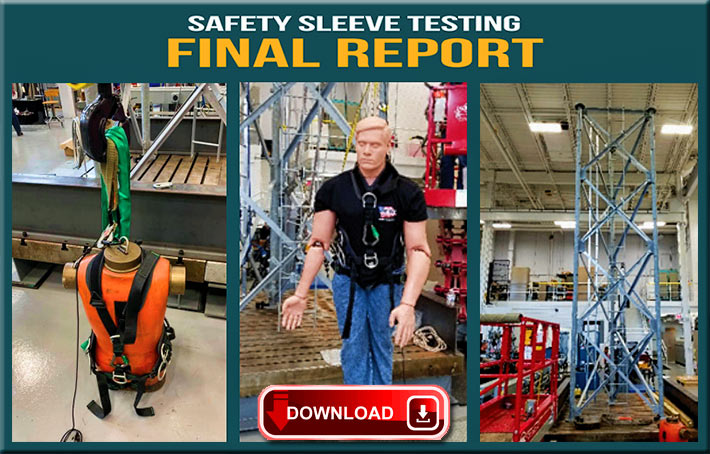 The Communications Infrastructure Contractors Association today officially released the NATE Safety Sleeve Testing Final Report. This in-depth, 62-page white paper describes the overall scope, methodology and results from the NATE sponsored Safety Sleeve Testing events that were performed at the University of Dayton Research Institute (UDRI) in Dayton, Ohio in 2018 and 2019.
If you're knowledgeable about the "Sunflower Effect" on towers, the benefits of anthropomorphic manikin tests, head damage, torso angles, and thin film dynamic testing, you're slightly more knowledgeable than most industry workers. But all tower technicians and interested parties can be assured that after reviewing the report they'll come away enriched with valuable PPE climbing system information and appreciate the dedication of organizations and stakeholder resources that went into the sleeve testing that will surely raise the bar on safety for the telecommunications industry.
The testing, performed over three different events and six total days, included over 110 drops completed. The Association's Safety Sleeve Testing Team attempted to push the design limits and standards of the safety sleeves and test outside of the parameters established by ANSI/ASSE Z359. Therefore, most of the tests were performed for replication of real-world use and application. The test results presented should only be used to validate and reinforce existing safety procedures.
"The Association is excited to officially make this Safety Sleeve Testing Final Report available and encourages all NATE member companies and industry stakeholders to review the important data outlined in the white paper," said testing team participant Stephanie Brewer from Sabre Site Services. "The intent of the testing was to provide feedback to NATE and its membership, and to provide future guidance for the Safety Equipment Manufacturers Committee (SEMC) for developing new testing parameters and safety climb system performance criteria. We believe the results of the testing events will ultimately raise the bar on safety in the communications infrastructure industry," added Brewer.
During testing it was learned that some common practices within the tower community should be stopped immediately. Such as leaving unsecured safety sleeves on the wire rope at heights (safety sleeve can slide down the wire rope if left unattended/ unsecured) and utilizing without proper tension and or securing the bottom assembly of the wire rope safety climb. They also learned that confirming that the safety sleeve is compatible with the wire rope is critical as there are multiple units designed for use on other diameter wire ropes (i.e. 8mm, 5/16", 3/8" 7×19, etc). Per ANSI/TIA-222-H all wire rope safety climbs for antenna supporting structures shall be 3/8" diameter
The following companies, organizations and individuals participated in the NATE Safety Sleeve Testing events:
3M:  Chris Coyle, Rick Miller; American Tower: Falicia Hill,  Michael Deese, Nathan Haselden, Sarah Rucker; Crown Castle: Allen Turcotte,  Kenneth Hill, Richard Cullum; GME Supply: John Lamond; NATE: John Paul Jones; Sabre Industries: Stephanie Brewer; Safety LMS: Cody Jones; SBA Communications: David Sams, Jeremy Buckles. Justin Lignocain, Nick Wilkerson; Skylotec: Doug Mercier; Trylon: Devin Finingan; TUF-TUG: Joey Deuer, Sheri O'Dell-Deuer, Dawn Smith; University of Dayton Research Institute (UDRI): Jordan Speers; and Vertical Bridge: Michael De Boer.