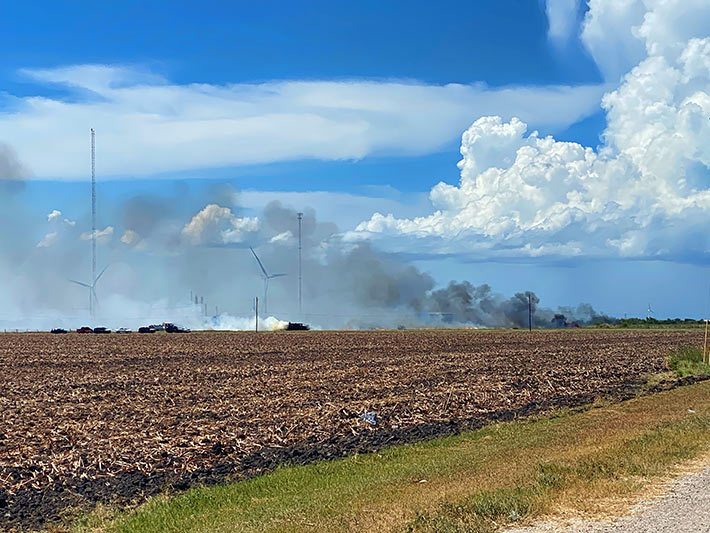 Field fire kayos AM station, but only for hours
Texas radio station KCTA, whose call sign means Know Christ The Answer, couldn't find an immediate answer as to why their Corpus Christi 50 KW AM station went off the air last week.
However, an Ionos Communications consultant quickly found that it was a field fire, luckily without brimstone, and technicians replaced a burnt transmission line running to the Grace Lane tower to bring them back broadcasting the good word within hours.
The area is surrounded by wind turbines which reportedly remained unscathed.
Hurricane Hanna, now downgraded to a tropical storm, battered Corpus Christi over the weekend, but there are no reports of communications towers failing. Above Photo: Richard Elizondo.
Cell site thief did the crime, but will not do all his time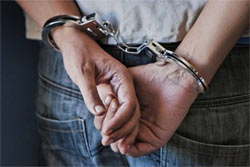 A Cape Town, South Africa judge has sentenced David Jenkings to 500 years in prison after he was found guilty of 25 counts of stealing equipment from MTN cell towers.
The hefty sentence was meted out to alert others that stealing from and vandalizing cell towers will not be tolerated.
Jenkins was sentenced to 20 years imprisonment for each of the 25 counts, which collectively amounted to 500 years imprisonment.
So, the 30-year-old man should be eligible for release in 2520.
However, the court also sent a message that it was somewhat compassionate and suspended seven years of each of the 20 years which resulted in 13 years imprisonment for each count, lowering it to 325 years.
But at the risk of using a cliché, "But Wait! There's More!" There was. Less time.
The court further decided that all the sentences would run concurrently. That effectively means Jenkins will serve 13 years imprisonment, possibly 8 years if he is released early for good behavior.
Sandore moves to electric power from wireless-centric C-level positions
Texas-based PLH Group, a full-service construction and specialty contractor that serves the electric power and pipeline markets, has appointed Peter J. Sandore as its CEO and as a member to its Board of Directors.
Sandore has been long recognized for his executive and management positions in the wireless construction and manufacturing industries.
His last industry position was as the CEO and Chairman of the Board of Sabre Industries, a leading wireless tower and components manufacturer. During his tenure he expanded the company's plants and developed additional electrical markets.
He was also involved in the acquisition of Midwest Underground Technology, Inc. in 2013.
Prior to that Sandore was a consultant to Aero Solutions, LLC, and Andrew Corporation. He also held leadership positions at American Tower Corp. and was the COO at WANHO Manufacturing, LLC.
"The Board and I are confident that Peter, a construction services industry veteran, is the right leader to take PLH Group to the next level," said Michael Caliel, PLH Group's Chairman of the Board. "As a proven and respected leader with broad industrials sector expertise, Peter has demonstrated a track record of driving operational success and profitability for public and private companies. Peter's authentic and results-oriented leadership style matches our organization and we believe this will accelerate business improvements and performance."
"I am very excited to be joining PLH Group," said Sandore. "The Company has a great business model that benefits from leading essential infrastructure service solutions for customers, with an extremely talented management team and a strong reputation in the industry. I believe PLH Group is well-positioned to capitalize on future growth in the electric and pipeline segments."