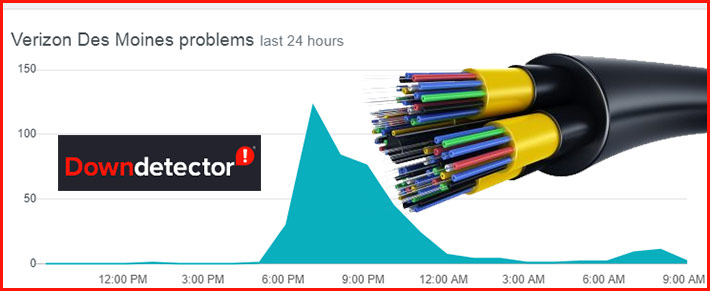 Verizon appears to have repaired a large fiber cut in the Des Moines, Iowa area that impacted hundreds of tower sites, preventing many users from calling 911 yesterday.
Verizon disputes an earlier report that it had been "hacked."
Normal cell phone usage was reportedly also affected. Some G-mail accounts were paused. An estimated 350 Verizon tower sites were having network issues as of Wednesday afternoon.
Downdetector saw Verizon service notices peak around 7:00 p.m. As of 9:00 a.m. there were minimal outage reports.
Ground zero for the hacked rumor appears to have come from a Verizon representative who said that they thought Verizon experienced a hack through YouTube that impacted around 300 Verizon site.
The Iowa Homeland Security and Emergency Management Agency and an Iowa Verizon response manager said the cause was due to the fiber being cut and was only impacting those with LTE services.
"The Verizon Response Manager does not confirm that a 'hack' occurred as previously shared with us locally through another division within Verizon. Apologies if this has initiated additional concerns," the company said in a statement.