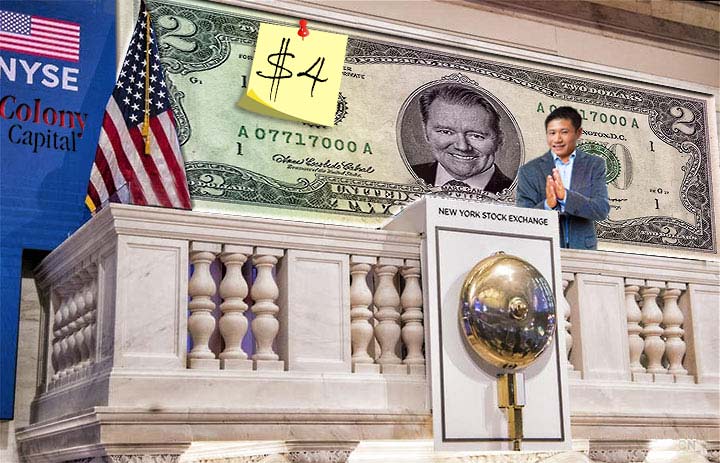 Colony Capital Inc. (CLNY) had another good day in the market on Tuesday as shares jumped 6.67% to close at $4.00, doubling the stock price since CEO Marc Ganzi informed analysts during his August Q2 call that "Colony today trades slightly under $2.00. I'd encourage you guys to look at your history books, think about this management team, think about our business model, and think about where we're going."
During Friday's call, Ganzi said he believes edge computing is going to change the digital economy as devices become more distributed and mobile and is confident that Colony will be the "leading digital infrastructure company in the world."
In reviewing Colony's strategic plan, particularly for investors that are now new to the 'Colony 2.0 story,' Ganzi said, "We've had a profound transformation under way transitioning from a diversified REIT, managing real estate assets across many verticals to a singular platform that's focused exclusively on digital infrastructure, which is cell towers, data centers fiber and small cell infrastructure."
Ganzi said that Colony has approximately 31 deals in the pipeline today, accruing to a total of approximately $20 billion in enterprise value. Currently, Colony has $47 billion in assets under management.
He emphasized that five of the deals are in the process of being finalized, or have been executed and will be announced next quarter.

It's all about the relationships
Ganzi said that all of the deals are proprietary and were not knitted together by brokers or bankers.
Although he is not ruling out looking at auctions, he believes that many are overheated, and Colony would better serve its investors by being price disciplined.
Ganzi said that Colony is the fastest-growing digital REIT in terms of their revenue growth and EBITDA growth quarter-to-quarter.
Colony sees fiber-to-the-home as a growth opportunity and is exploring partnering with carrier providers or cable companies. "You can own their infrastructure and enter into long-term agreements with them where you provide on a wholesale basis that network infrastructure," Ganzi said.