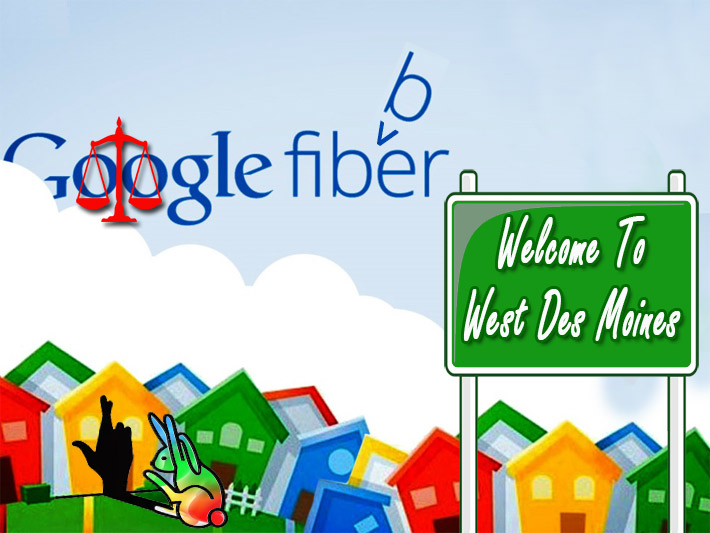 West Des Moines, Iowa approved a $50 million project to build a fiber network under the city and then secretly worked out a deal to give Google Fiber exclusive access to the conduit network, according to a lawsuit filed by MCC Iowa LLC, a subsidiary of Mediacom Communications Corporation.
The complaint against the city and the West Des Moines City Council argues that $42.8 million in taxpayer-backed financing bonds were used with minimal voter oversight and input to primarily benefit Google since the arrangement that the city made with Google "prohibits any other [internet service providers} from using virtually the entire conduit network for years to come".
Amongst other charges, Mediacom alleges in the complaint filed last week that:
The city failed to solicit bids for the conduit construction and granted Google Fiber control over the conduit's design
That a member of the Wes Des Moines City Council is a lobbyist for Google in the state of Iowa, and the council did not take steps to prevent that member from influencing negotiations
The city improperly approved the project as an "urban renewal project" by incorrectly stating the entire City of West Des Moines was an urban renewal area
The city is utilizing city resources to undertake a marketing campaign encouraging residents to connect to the conduit network and use Google Fiber's services while falsely promising residents will have a choice of providers.
The conduit network, according to the lawsuit, will be built in seven sections and would result in a competitive edge as Google Fiber would be the only broadband provider for select residents and businesses for years. The city would only reserve up to 10% of the conduit network from exclusivity in "congested" areas for other broadband providers' use.
The city has previously stated that other internet service providers would have access to run their fiber optics through the city conduit, and that Google Fiber would be the first signed tenant of the city conduit, paying the city $2.25 per month for 20 years per broadband customer.
Mediacom states in the complaint that the city is providing Google with exclusive rights to use each section of the conduit network for 18 months after the section is completed.