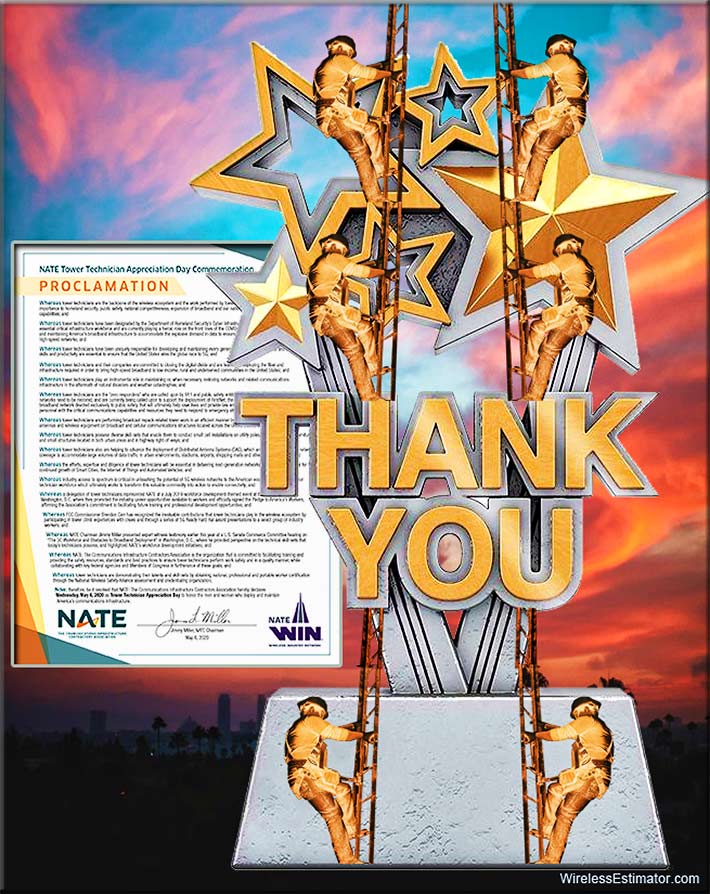 NATE: The Communications Infrastructure Contractors Association unveiled a commemoration declaring Wednesday, May 6, 2020 as Tower Technician Appreciation Day. For the fourth consecutive year, a day has been set aside by NATE in order to pay tribute to the important work that communications infrastructure technicians conduct on a daily basis to enable a mobile society.
"NATE is excited to declare Wednesday, May 6, 2020 as Tower Technician Appreciation Day to recognize the skilled men and women on the frontlines of deployment," said NATE Board of Directors member Bryan Lee from Springtown, Pennsylvania. "The timing of this commemoration is perfect as the Association is able to shine a spotlight on the heroic work that the technician workforce is currently playing during the COVID-19 pandemic to continue building, installing and maintaining America's broadband infrastructure to accommodate the explosive demand in data to ensure reliable, high-speed networks."
NATE encourages member companies and industry stakeholders to use Wednesday, May 6 as a day of commemoration to host recognition events within their respective organizations to pay tribute to the technicians they employ. To download and print the official Tower Technician Appreciation Day Proclamation, visit HERE.