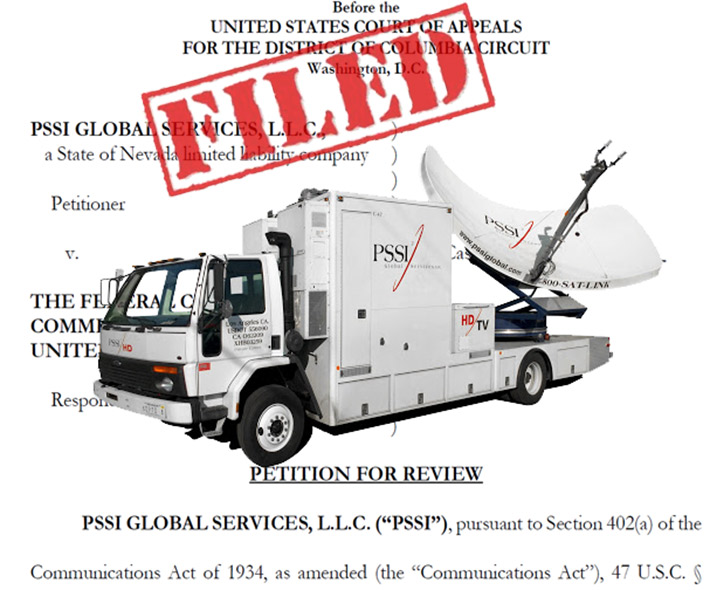 Video programming provider PSSI Global Services LLC (PSSI) is taking the FCC to court over the agency's controversial reorganization of the C-band spectrum, arguing that the agency is crippling an entire industry.
In February, the FCC adopted new rules to auction and make available 280 Megahertz of the 3.7-4.2 GHz band available for 5G Services while relocating existing satellite operations to the upper part of the band.
In their lawsuit, PSSI said that the C-band is the backbone of the satellite video distribution system and the FCC's action reduces that available spectrum by repurposing 60% of it, and they are now at risk, especially since their "occasional use" (OU) transportable operations will be disrupted.
Although OUs involve regular use of the bandwidth, it is not always possible when or where the transportables must be dispatched to provide coverage, said PSSI in its lawsuit.
"Moreover, not all GSO satellites and transponders can be used by transportables for any given OU event at any given location. Transportable earth stations need to have satellite 'line-of-sight' access and transponder frequency clearance to connect with a particular satellite and transponder. Further, PSSI has also repeatedly demonstrated the harm that would ensue from the operation of the Flexible 5G licenses in the lower portion of the C-band at those OU locations, both in terms of damage from radiated power, as well as interference to operations of the transportables," PSSI alleges in its lawsuit.

FCC urged to factor in COVID-19 expenditures
Last week, the FCC's Wireless Telecommunications Bureau issued its Cost Catalog, an estimate of the costs that it will cover for eligible satellite operators—Fixed Satellite Service (FSS) space station operators, incumbent FSS earth station operators and incumbent Fixed Service licensees—moving out of the 280 MHz spectrum and requested the filing of comments.
Comments that the FCC is looking for include whether or not these estimated costs are reasonable, as well as whether or not it covers every situation that may occur during the transition.
Following a meeting held on April 28 regarding the anticipated costs, NCTA—The Internet and Television Association filed a summary on behalf of a group that also consisted of executives from Comcast, NBC Universal, Viacom and others.
The group highlighted the importance of the FCC quickly establishing a lump sum payment amount for Earth station operators that would take into account things like professional services, hardware and software, as well as cost impacts that may occur from supply chain disruptions because of COVID-19.
They also also discussed content companies like PSSI's continued need to access the 3.7-4.0 GHz band on a secondary basis in certain locations to produce telecasts of live sporting events.
"Production teams operating transportable/occasional use earth stations receive content from C-band downlinks and insert that content into programming created onsite. These earth stations serve the public interest by enabling live coverage of highly popular major sports events," NCTA said in its summary.