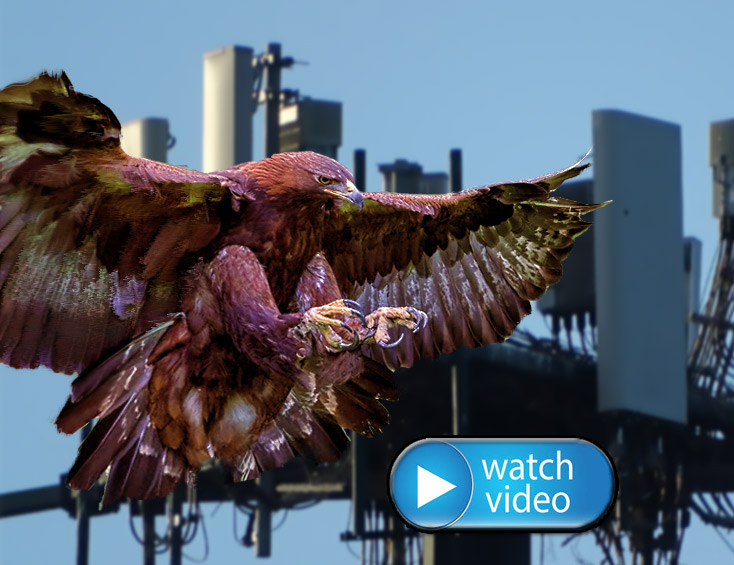 NATE: The Communications Infrastructure Contractors Association today released a video titled "Birds of Prey" focused on the topic of raptors nesting on communication towers. The video is the second to debut in Volume 5 of the Association's popular #ClimberConnection series.
The video, released to coincide with bird nesting season in many parts of the United States, includes important information that all tower technicians need to know regarding the federal statutes, state laws and protocols that govern bird nesting on communications towers. The video also includes an interview with Senior Raptor Scientist Dr. Marco Restani, who provides practical expertise and guidance related to scenarios and hazards that tower technicians are confronted with at tower sites with raptor nests and tips for remaining safe when working in these environments.
"The release of this video is timely given that this is the time of year where our company's technicians are often confronted with working on cell towers that have raptor nests," stated Chad Berg from US Tower Services, Inc. in Missoula, Montana. "I would encourage all tower climbers and companies to incorporate this video into their training programs to continue to educate the industry on how to navigate the myriad of laws, reporting mechanisms and best practice scenarios related to nesting on towers," added Berg.
CLICK HERE to watch the "Birds of Prey" Video. NATE encourages tower technicians and all communications infrastructure stakeholders to actively participate in this campaign by posting the video on their respective social networking platforms using the hashtag #ClimberConnection.
The Association also encourages industry workers to subscribe to NATE's YouTube Channel and share their comments on the video through social interaction on the Association's Facebook, Instagram, LinkedIn, Reddit, Tumblr, Twitter and YouTube platforms.
The Climber Connection Volume 5 campaign was developed by the NATE Member Services Committee in conjunction with the NATE Safety & Education Committee and is designed to provide specific resources and communicate the Association's message directly to the industry's workforce.