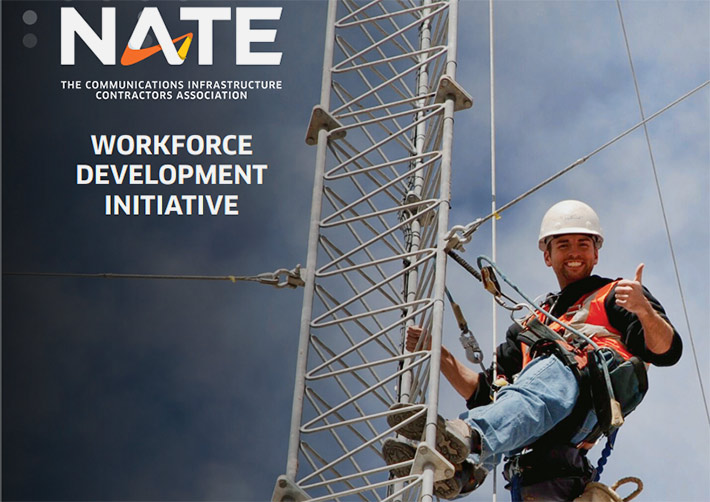 NATE: The Communications Infrastructure Contractors Association today unveiled a framework document outlining the key components of the organization's workforce strategic plan initiative. The initiative is spearheaded by NATE's workforce development consultant Gemma Frock, PhD.
The Association's workforce mission statement is to promote and expand telecommunications workforce development capabilities by facilitating collaborations and partnerships between NATE members, community agencies, and educational and training entities that foster educational credential attainment and job placement. To view the NATE Workforce Development Initiative, visit HERE.
The framework for the NATE workforce development initiative defines and provides the environment for the future direction, actions, and decisions and is focused on the following four pillars:
Educate by elevating the critical workforce needs of the telecom industry.
Advocate by serving as a convener of regional industry stakeholders meetings and events focused on workforce development programs and topics
Connect by engaging and leveraging new and existing networks in support of workforce development for the telecom industry.
Communicate by initiating outreach activities to raise awareness of the workforce opportunities for the telecom industry nationally and regionally.
An early component of the Association's strategic plan will be the issuance of a NATE Employer Workforce Survey in July of 2020. The Association's main objective for initiating the telecom workforce survey is to determine the needs of employers by collecting credible estimates of the number of workers needed by position and location.
NATE member company survey participation will be essential in order to generate meaningful data that will be utilized for targeting new workforce programs throughout the country.
"We are excited to release the NATE Workforce Strategic Initiative document as a means of keeping our members and the industry informed on our efforts and hold the Association accountable for meeting our benchmarks and objectives outlined in each phase of the plan," stated Dr. Frock. "The NATE Workforce Strategic Initiative is structured to come alongside and complement the other great industry workforce development activities that are currently underway to help identify, recruit and develop a pipeline of future, skilled talent," added Frock.
The public release of the NATE initiative continues the momentum surrounding the industry's professional workforce development efforts and comes on the heels of the National Wireless Safety Alliance (NWSA) announcement last week that it has been awarded accreditation by the ANSI National Accreditation Board (ANAB) for its Telecommunications Tower Technician 1 and Telecommunications Tower Technician 2 programs.