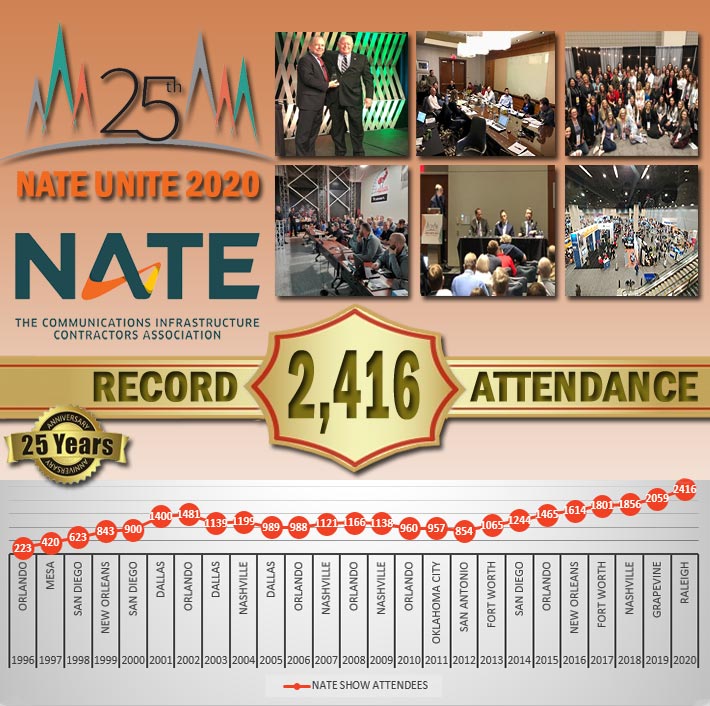 For the eighth year in a row, NATE: The Communications Infrastructure Contractors Association saw an increase in their annual convention's attendance at their Raleigh, North Carolina show last month with an enviable surge of 18% over 2019, with a record 2,416 registrants, according to NATE UNITE Registration Manager Nikki Gronau.
The 367 increase in attendance eclipsed the association's first show's total attendance of 223 in Orlando, Florida in 1996.
The industry's most successful wireless infrastructure show also had a record 370 women in attendance, a tribute to the outreach efforts of Women of NATE (WON) and their success in getting more women leaders in the wireless workforce.
WON will be hosting its first leadership summit in Chicago, Illinois on April 20, 2020. Registration and additional information is available here.
The show also boasted a record number of exhibitors who said that it was one of the busiest shows they've ever attended, as witnessed by the packed exhibit hall.
Wireless Estimator was aware that the show would most likely beat last year's attendance and asked viewers to guess what the final attendance would be by February 26, 2020.
On February 28, Gronau released the final count and Cody Kaso had correctly guessed 2,416 the previous Friday.
Kaso is a project coordinator with Hurricane, West Virginia-base BPI, Inc., a telecommunications general contractor. For the correct guess, Kaso will receive $100.
Almost 300 viewers took a shot at predicting the final attendance count.