Last week, most wireless infrastructure companies were supporting a mostly "business as usual" mentality regarding the COVID-19 outbreak, but they're now reassessing their preventative plans daily as the industry finds itself struggling to keep abreast of the almost hourly information being provided by news media, health organizations and government agencies.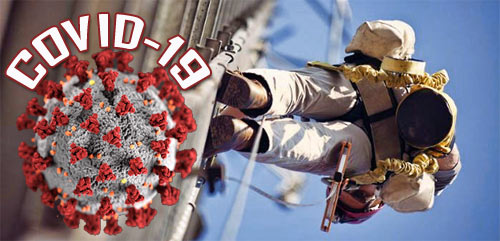 Bernard Borghei, Executive Vice President of Operations, Vertical Bridge REIT, LLC, said that his organization has put an immediate stop to international travel and they're encouraging their employees to avoid non-essential domestics travel. 
"If anyone travels to a destination that is deemed compromised from a health risk standpoint, they are required to exercise self-quarantine and be in touch with their supervisor and our HR team, and not return to work until they have medical confirmation that they are clear of the virus," Borghei informed Wireless Estimator.
"We are not requiring anyone to attend conferences or big industry and work-related events for the time being. And, we are currently reviewing our telecommuting policies in case we have to take additional measures to protect the safety and health of all of our employees and families," he said.
Crown Castle said it continues to monitor changing conditions and risks to address the complex coronavirus situation in the interest of their employees, customers, and business. 
 "Starting last week, the company suspended non-essential air travel. To easily enable remote work and customer support, all 6,000-plus employees and temporary contractors are equipped with laptops. Crown Castle employees have been reminded of the medical resources available, and encouraged to maintain good habits for a clean, healthy environment," said Jean Chapin, VP Business Support, Crown Castle.
Ericsson is closely monitoring the development around the novel coronavirus and is following recommendations from relevant national authorities and international bodies, such as the World Health Organization (WHO). 
"The responsibility for the health and safety of employees and customers is the company's top priority. Ericsson is taking precautionary measures to ensure the health and safety of employees and to minimize the impact on the company's operations," said Ericsson Internal Communications Manager Patrick Hernandez in a statement to Wireless Estimator.
One turfing vendor said that they're monitoring COVID-19 daily and are asking employees to work from home wherever possible and to refrain from all non-essential travel. They've informed their employees to stay home if they believe they have any symptoms of the virus and to get immediate medical attention.
Techs might be more exposed than office workers
Unfortunately, the tens of thousands of field technicians that are building out broadband can't work from home.
Former Democratic FCC Commissioner Mignon Clyburn said at a Free State Foundation luncheon in Washington D.C. on Tuesday, that the private sector and the FCC can help stem the tide of the COVID-19 outbreak by building out broadband. 
Although she didn't elaborate, it would be an impossible task if tower techs are corralled by the coronavirus.
Some industry observers believe that tower techs are in a low risk group since they're typically younger and physically fit and would most likely not have respiratory problems which would prevent them from climbing towers. 
Also, they say, they're usually with the same smaller group of crew personnel on a daily basis.
Others disagree. 
"That's foolish to believe that we are not susceptible to catching the virus," said one smaller company owner with four crews who requested anonymity. 
"These guys work long hours in a physically demanding job that puts them at risk because they drag home many evenings truly drained."
A crew leader also said that his men are probably in more contact with potential coronavirus carriers than office workers.
"Staying in some of the motels we have to stay in is like going to bed in a petri dish," he said.
He also noted that many climbers on the road eat at restaurants in the evening, oftentimes at buffets.
"How many people do you think handled those same serving spoons," he asked?
He cautioned his fellow tower techs to be extra careful and observe preventative measures while on the road, especially if they have to travel by plane in or out of market.
The show must not go on, say event organizers
Many conference organizers have recently canceled their events.  
On Monday, the Las Vegas IWCE 2020 exhibition and conference, scheduled to begin March 31 was canceled. Although the organization said they were looking to reschedule it, a show that size will find it difficult to get another date and venue quickly, and get exhibitor and attendee support if it is too close to the following year's show.
The South Wireless Summit scheduled to begin on Monday was canceled yesterday. Organizers are optimistically looking to reschedule it in June. They said that company travel bans would have had a huge impact on the number of exhibitors and registrants attending.
Although it had been rumored for the past few days, news came just hours later that the NAB was canceling its show set to open on April 18 in Las Vegas, the first time in 100 years. The event has typically over 90,000 people in attendance and over 1,600 exhibitors.
"I want to stress that despite our disappointment at how this year's show has been impacted by global public health concerns, we are more excited than ever about the future of NAB show and our relationship with you," said NAB President and CEO Gordon Smith to registrants and exhibitors.
The Wireless Infrastructure Association's Connect (X) show is scheduled to begin May 18 in Miami Beach, Fla. Event planners will be assessing whether the conference will be canceled within the next few weeks if there is no coronavirus containment advances. 
W.W. Grainger Inc. canceled its Central Florida conference, typically well-attended by the wireless infrastructure supply chain. The trade show was slated to bring 13,000 attendees to the Orange County Convention Center in Orlando beginning Monday.
Company preventative measures being taken, what are yours?
Let Wireless Estimator know about current or unique measures your company is taking to ensure that your employees and clients are as protected as they can be against the coronavirus. 
Allfasteners USA said that they recently installed Zoom video conferencing to conduct virtual meetings during this time of limited travel. 
Training company Gravitec, based in Washington State where the country's first reported coronavirus case was announced on January 21, and has 335 reported cases as of yesterday, said it is implementing additional safety measures and precautions beyond their regular safety measures.
"We have taken a proactive stance to reduce the potential for exposure through educating and preparing our employees that are traveling with best practices and providing safe travel kits," the company said in a statement. 
Vertex Safety Resources President Adam Drieling informed Wireless Estimator that since they come in contact with the public and tower companies' personnel frequently they decided to follow everyday guidelines from WHO that their local ASSP St. Louis chapter recently put out.  
 No state will be left behind
Although there are ten states with no reported cases, that number is declining daily. As an example, South Dakota, which on Tuesday morning had no known cases, had eight by last night, including a death, according to The New York Times.
U.S. coronavirus patients are a small fraction of those with the virus overseas, where thousands of people have died and tens of thousands have been infected.
Overnight news about coronavirus, now identified by WHO as a pandemic, had President Trump restricting travel from certain European countries, California calling for a ban on large gatherings, Tom Hanks stating that he and his wife have the virus and the NBA suspending all games after a player tested positive for the virus.
If this news is accurate, a sliver of hope was unveiled by China after a senior medical adviser said its coronavirus new cases have slowed, and the pandemic is likely to be over by June.
What Should Employers Do?
The Center for Disease Control and Prevention (CDC) is encouraging businesses to begin preparations for the spread of the coronavirus in the United States. In order to assist you in these preparations, you are encouraged to take the following steps:
Educate your employees

Hygiene and health is key – Practicing standard sanitation and hygiene regimens is a top priority.

Encourage frequent and thorough hand washing with soap and water Hand Washing Guidance.
Hand sanitizer, with at least 60% alcohol content, is a secondary option.
Remind everyone to keep noses and mouths covered when coughing or sneezing Coughing and Sneezing.
Avoid touching in and around the eyes, with unwashed hands.
Everyone who has not yet had a flu shot should get one as soon as possible.
Follow the CDC recommendations for employers: 

Employer Guidance: PREPARE NOW.
Emphasize staying home when sick, respiratory etiquette, and hand hygiene by all employees.
Perform routine environmental cleaning.
Update your absenteeism policy and communicate the requirements.
Update your work from home policy and communicate the requirements.
Planning Considerations

Prepare for increased absenteeism

Cross train employees to handle other functions
Encourage employees to develop contingency plans for child care in the event there are long term closures of schools and day care centers

Prepare for business interruption

Identify alternative suppliers
Prioritize certain customers
Prepare to shut down certain functions
---
Editor's Note: If your company has curtailed work or would like to provide information in confidence regarding COVID-19, contact info@wireslessestimator.com.