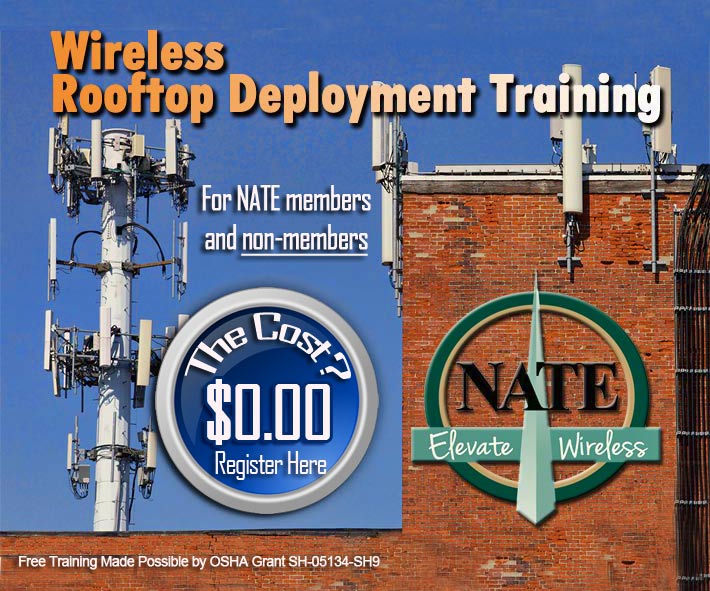 Registration is now open for a highly-sought after industry training session – Wireless Rooftop Deployment Training –  that is free to all wireless infrastructure company employees.
The training, provided by the National Association of Tower Erectors (NATE) is available at no charge to NATE members as well as non-members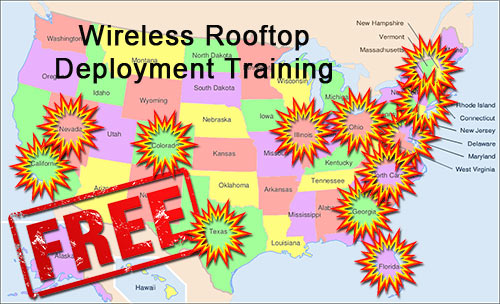 Twelve Wireless Rooftop Deployment Training Courses will be hosted nationwide in 2020 through a Susan Harwood Training Grant (SH-05134-SH9) from the Occupational Safety and Health Administration, U.S. Department of Labor.
The complimentary, grant-enabled training sessions  will be held in Raleigh, North Carolina; Dedham, Massachusetts; Columbus, Ohio; Las Vegas, Nevada; Carlsbad, California; Parsippany, New Jersey; Schaumburg, Illinois; Miami, Florida; Atlanta, Georgia; Lakewood, Colorado; Houston, Texas and Baltimore, Maryland.
The curriculum is tailored specifically to the communications infrastructure industry and includes detailed instruction on rooftop work activities and information workers need to know such as updates to the general industry OSHA Walking-Working Surfaces Rule and Fall Protection Standards, industry-specific rooftop fall protection procedures, hazard assessment protocols, antenna identification, RF awareness, RF controls and other applicable standards.
Additionally, the training will include information regarding employee and employer rights and responsibilities under the OSH Act of 1970, whistleblower complaint procedures and protection provisions.
"NATE encourages all interested stakeholders to register for the training sessions in their respective regions as participation is anticipated to be high," said Project Coordinator Kimberly Elliott.