NATE: The Communications Infrastructure Contractors Association announced today that famed actor/comedian/writer/producer/director Rob Riggle will deliver the keynote address at the NATE UNITE 2022 Conference in Las Vegas. NATE UNITE 2022 will take place February 21-24, 2022 at Caesars Forum.
NATE UNITE is widely regarded as the premier and most comprehensive education event in the communications infrastructure industry. Riggle is scheduled to speak during the NATE UNITE 2022 keynote luncheon sponsored by SBA Communications Corporation on Tuesday, February 22, 2022 .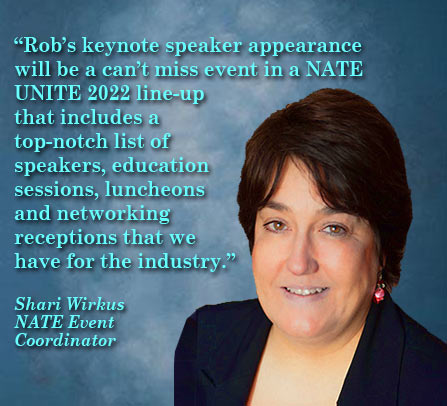 Rob Riggle has been a staple in comedic films and television for more than 15 years. Riggle is known for his memorable characters in comedy hits like The Hangover and Step Brothers, as well as his stints on Saturday Night Live and as a correspondent on The Daily Show with Jon Stewart. Additional credits include The Other Guys, 21 Jump Street, 22 Jump Street, Dumb and Dumber To, and most recently Universal's Night School with Kevin Hart. In two strong dramatic turns, Riggle also recently appeared in Warner Bros.' war drama 12 Strong and Open Road Films' Midnight Sun, the latter of which he received critical acclaim for his performance.
As he broke into comedy, Riggle was still on active duty with the United States Marine Corps, which he initially joined at the age of 19. Rising through the ranks, Riggle served in various countries including Albania, Kosovo, Liberia, and Afghanistan. Lieutenant Colonel Riggle retired from the Marine Corps Reserve, having served 23 years total (9 years active duty, 14 years in the reserves) and earned more than 22 medals and ribbons including the Combat Action Ribbon.
"Rob Riggle's iconic status as a popular comedian, actor and entertainer coupled with his background as a veteran who faithfully served our country in the United States Marine Corps makes him the perfect keynote speaker for NATE UNITE 2022," said NATE's Trade Show Committee Chairwoman Amanda Stegall of Gulfport, Mississippi. "Given the various COVID-19 challenges the industry has been confronted with, Rob's comedic message incorporating humor and levity will be very well received by the conference attendees," added Stegall.
"NATE is thrilled to have Rob Riggle joins us in Las Vegas, Nevada as the keynote headliner at NATE UNITE 2022," stated NATE Event Coordinator Shari Wirkus. "Rob's keynote speaker appearance will be a can't miss event in a NATE UNITE 2022 line-up that includes a top-notch list of speakers, education sessions, luncheons and networking receptions that we have for the industry," added Wirkus.
Companies interested in NATE UNITE 2022 sponsorship and exhibiting opportunities are encouraged to visit HERE. To register for NATE UNITE 2022, CLICK HERE. For more information on NATE, visit www.natehome.com.