One of Time Magazine's Top 100 Inventors in History, Martin Cooper, shares an insider's story of the cell phone, how it changed the world—and a view of where it's headed in his new book released today, Cutting the Cord: The Cell Phone Has Transformed Humanity.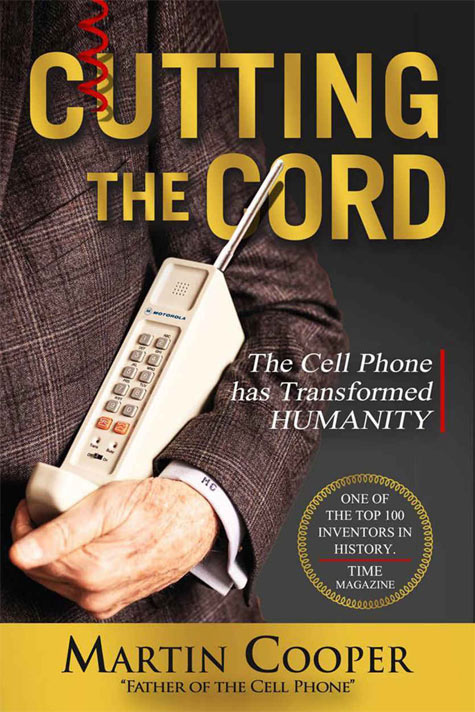 While at Motorola in the 1970s, wireless communications pioneer Cooper invented the first handheld mobile phone which has now resulted in over 60% of America's households getting rid of their landline service, according to a study by the Center of Disease Control and Prevention.
But the cellphone as we know it today almost didn't happen. Now, in Cutting the Cord, Cooper takes readers inside the stunning breakthroughs, devastating failures, and political battles in the quest to revolutionize—and control—how people communicate. It's a dramatic tale involving brilliant engineers, government regulators, lobbyists, police, quartz crystals, and a horse.
Industry skirmishes became a political war in Washington, a struggle to prevent a monopolistic company from dominating telecommunications. The drama culminated in the first-ever public call made on a handheld, portable telephone—a cell phone.
Without the vision of a small group at Motorola, the last 40 years would be different. Their story is inspiring and instructive. After a 29-year career at Motorola, Cooper became an entrepreneur, helping launch companies dedicated to accelerating cell phone adoption.
The story of the cell phone has much to teach about innovation, strategy, and management. This book also relates Cooper's vision of the future of personal communications and artificial intelligence.
Cooper takes the reader through an engaging visit through his childhood years and family life in the 200-page book available here.
He is a sought-after commentator and was a keynote speaker at NATE UNITE-2014 in San Diego.
In a 2013 Wireless Estimator interview, Cooper said that Star Trek's William Shatner didn't provide the inspiration to invent the first portable cell phone, a popular belief.
Cooper said that he was only enamored by the communicator's voice recognition, something Motorola had been working on for many years.