The FCC reported yesterday evening that Hurricane Ida, roaring ashore in Louisiana on Sunday as a Category 4 storm with a peak gust of 172 mph, just short of the strongest measured wind from a hurricane in the U.S., has taken 28.1% of the cell sites in the affected area out of service.
However, that number includes counties in Alabama with only 10 sites down and others in Mississippi that saw minimal outages.
In Louisiana, the storm ravaged many parishes, taking out 100% of their cell sites, such as in Assumption and Terrebonne, bringing the average of outages due to damage, transport or lack of power to 52.1%.
The full list of affected areas is detailed below.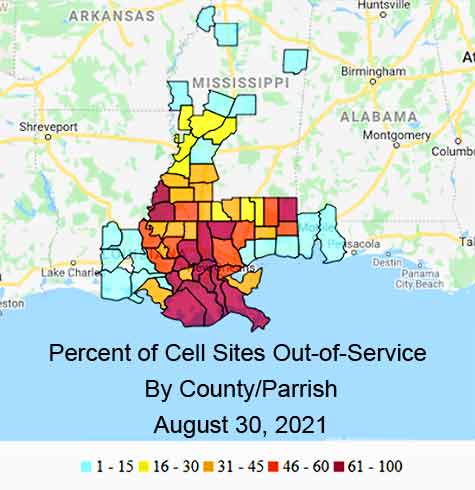 East Baton Rouge Parrish had the most cell sites out with 216 of its 260 cell sites served, a devastating 60% outage.
The number of cell sites out in the affected areas due to known damage was 147, with the largest loss being 24 in Orleans Parish.
Mississippi, out of a total of 2,714 cell sites, had 13.9% out with 15 being reported as damaged.
In broadcast, it was reported that 2 TV stations are out of service and a total of 5 radio stations off the air.
Cable and wireline subscribers out of service are: Louisiana, 338,115; Mississippi, 16,106; and Alabama, 478.
Wireless Estimator will provide services outages as soon as they are updated today.