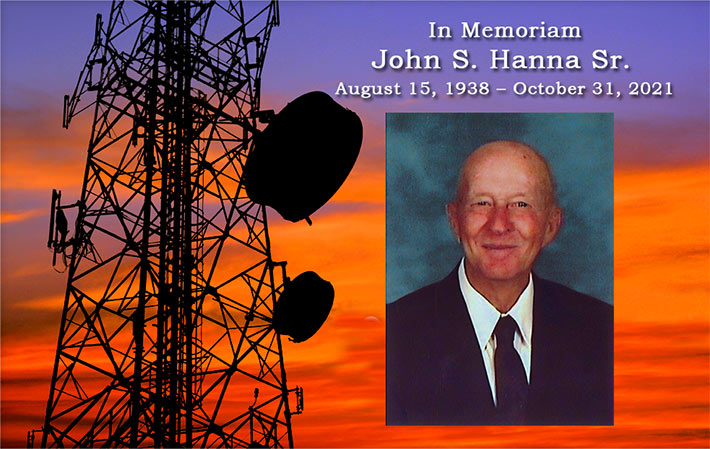 John S. Hanna, Sr., 83, who along with his wife Louise established Tower & Communications Services, Inc. of Florence, SC in 1970, passed away on October 31, 2021, leaving the industry with fond memories of a man who dedicated his life to his family, friends and the many wireless workers who learned their craft from him and expanded their horizons with his guidance and blessing.
His company was a founding member in 1995 of NATE: The Wireless Infrastructure Contractors Association.
Hanna's son, John Hanna, Jr., worked with his father at an early age and later served on the Board of Directors of the Association.
Jim Tracy, CEO of Legacy Telecommunications, LLC, knew Hanna Sr. well when Tracy served as the Association's Chair, and capsuled Hanna's caring and dedication.
"John Hanna was a builder; he built towers, a company, a family, a trade association and more. But mostly he built men who were coached and taught how to do things to be proud of. As a person of faith, he did this in business and in life. John did these things throughout a tower career that really began in earnest with the founding of his own shop in 1970. From every perspective he finished the journey through this life well. He was a giant in our industry in a very quiet way. He taught everyone he touched and will be greatly missed," Tracy said.
Hanna was born in Johnston, SC a son of the late Bert Hanna and Hester Poston Hanna. He served as a Staff Sergeant in the US Air Force. Upon completing his service in the Air Force he worked as a Chief Technician with Cosmos Cable and then founded his business In 1970.
He was a member of St. Anthony's Catholic Church where he was also a member of the Men's Club and served as Vice President in 2005, he served as an usher and Eucharist minister, and was an active member of the Knights of Columbus.
He was preceded in death by his parents; wife, L. Louise Hanna in 2012; three brothers, Jack Hanna, Billy Hanna, Ted Hanna; three sisters, Eris Jones, Ilena Barnhill, and Gera Grimes.
Surviving are his son, John S. (Crystal) Hanna, Jr. of Murrells Inlet and grandson, Blakely A Hanna (Haley Grimes); many nephews, nieces and several extended family members and friends.
There will be a Christian Wake Service at 6:00 p.m. Thursday, November 4, 2021, and the family will receive friends afterwards until 8:00 p.m. at Stoudenmire-Dowling Funeral Home in Florence, SC.
A Mass of Christian Burial will be said at St. Anthony Catholic Church 11:00 a.m. Friday, November 5, 2021. Interment will follow at Florence Memorial Gardens.
In lieu of flowers, Mr. Hanna requested that donations be made to either St. Anthony's Catholic School, 2536 Hoffmeyer Rd, Florence, SC 29501, http://www.saintanthonycatholic.com/ or The Barnabas Horse Foundation, P.O. Box 31636, Myrtle Beach, SC 29588, https://www.barnabashorse.org/.